News
Tabloid launches PC quiz on back of prince's reference to negro art
---
This article is more than 7 years old.
Prince Henrik unveils a new statue inspired by African and Eastern crafts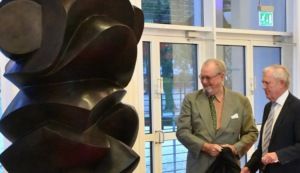 It turns out the Danish queen isn't the only one in her family with artistic talents.
Her husband and consort, Prince Henrik, 82, has created a sculpture called 'Abstrakt Torso', which he reveals was inspired by "negerkunst" (negro art).
The three metre-high sculpture – which consists of a number of materials, including marble, bronze and silver – will become part of the Aalborg Kongres & Kultur Center's art collection.
Also inspired by the east
Henrik told TV2 Nord that his inspiration came from both African and Eastern art.
"We should not be afraid to use negro art," he said. "And also from the East, where I come from, because it's a mixture of all cultures and civilizations."
Henrik was raised in Vietnam and undertook studies in China. He also served in the French military in Algeria.
Tabloid's PC quiz
The tabloid Ekstra Bladet (here at the bottom of the page) – clearly amused that the "politically incorrect" prince had used the word 'neger', an increasingly contentious word in the country – took the opportunity to launch a quiz on its website.
"Er du politisk ukorrekt – tag neger-quizzen her" (are you politically incorrect – take the negro quiz here) challenges readers to confirm whether nicknames/slurs for other nationalities and races are acceptable or not.