News
It's longevity that matters, not length, claims Danish travel agency's latest fruity ad
---
This article is more than 7 years old.
Spies Rejser has completed its trilogy of ads encouraging Danes to go on holiday to boost the sagging birth rate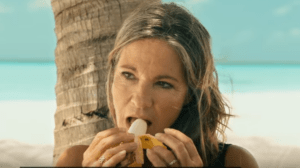 First there was 'Do it for Denmark'. And then there was 'Do it for Mom'.
Both were adverts for Spies Rejser encouraging Danes to have more babies to address the country's flaccid birth rate.
And now the travel agency has come up with 'Do it forever' – a new campaign to complete the trilogy that increases holiday discounts according to how many children there are in the family.
Kids to blame!
Casually blaming the early death of many Danes on the kids who prevent them from having an active, healthy sex life, the ad laments how 46 percent of Danes have less sex after procreating and how many die eight years prematurely as a result.
All the classic ingredients of a Spies ad are there: a woman eating a banana to mimic fellatio, sun cream being squirted in an ejaculatory fashion, an opportune moment of male prowess, and humour – lots of humour!
Eurovision in the cockpit
Among those lending their services are the Olsen Brothers, who as pilots of a plane full of sexually-reinvigorated seniors are singing a special rendition of 'Fly on the wings of love'.
After all, Danes have 51 percent more sex on a sunny holiday compared to their everyday lives, a previous Spies Rejser ad reminded us – regardless of whether somebody's playing mood-killing Eurovision in the background.
See the ad below: