News
New Danish invention moves wind turbines far out to sea
---
This article is more than 7 years old.
Deep water floating power plants use wind and waves to generate energy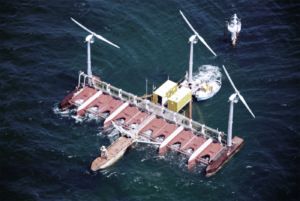 A Danish company – Floating Power Plant – is currently the only company in the world that has developed a technique to harvest power from both wind and waves from turbines situated on platforms located far out at sea.
The company's engineers have been working on the project for several years and the company has now also secured footholds abroad, according to its chief executive Anders Køhler.
"If the world is to meet climate targets and offshore wind is to be a big part of that market, then wind turbines should be floating," Køhler told TV Øst.
First anywhere
Floating Power Plant uses liquid foundations for platforms that use wave power to create energy when placed at locations where the sea is over 45 metres deep, along with that produced by the turbineon top of the platform. The company has been testing a platform for the past two years and is thus far the only one in the world that has managed to produce power for the grid from both wind and waves at the same time.
"We want to be where there is lots of wind, lots of waves and deep water," said Køhler.
Hoping to grow
Floating Power Plant has made two agreements with DP Energy, an Irish company that would like to use Floating Power Plant's technology for floating offshore wind farms in Scotland and Wales. The first plant will be located in either Wales or Scotland in 2019.
"People these days do not like to look at offshore wind farms, so we want to go deeper," said Køhler.
While the company currently has ten employees at its offices in Copenhagen, Norway and Edinburgh, it hopes to expand rapidly.
"Our dream is to build a company that delivers deep-water wind farms around the world," said Køhler.