News
Julefrokost season drink driving campaign aimed at Danish men
---
This article is more than 7 years old.
Nine out of ten offenders are men, confirm police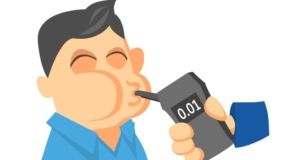 After a vat of wine, a keg of beer and a gallon of schnapps at their annual julefrokost (Christmas lunch) office party, most Danish men think they look like Tom Cruise, dance like John Travolta and drive like Lewis Hamilton.
And it is this latter delusion that is getting many into trouble with the authorities, as according to the police, this country's men account for approximately nine out of ten drink driving convictions.
According to an Epinion survey, 16 percent of Danish men have had at least one moment this past year when they questioned whether they were fit to drive, compared to just 7 percent of women.
In addition, some 88 percent of the 4,300 attendees on courses concerning the dangers of drink driving this year, which are mandatory to regain a driving licence, were men.
Time to blow away the cobwebs?
Ahead of the julefrokost office party, which kicks off in earnest this weekend, the police have launched a nationwide campaign, 'Klar til et pust' ('ready for a blow' – like into a breathalyser), to dissuade motorists – particularly men – from drinking and driving.
"Men generally drink more than women and also tend to take more risks in traffic, so they are also involved in more accidents than women when they are drunk," said Michelle Laviolette, a senior project leader at Rådet for Sikker Trafik (council for safe traffic), which commissioned the Epinion survey.
"Our goal is to get more people to leave the car – and for especially men to think about how to get home safely."
Heavier police presence
The campaign – which started yesterday, will involve a heavy police presence on the roads, and includes a video – also appeals to bystanders to intervene, whether it is suggesting a taxi or delaying their journey home.
And there is also the stigma of being convicted of drink driving.
"Drink driving is heavily frowned upon these days," Birte Zielke Baunbæk, a consultant on traffic courses in Region Midtjylland.
"It can have major consequences for your family and job."