News
Tough legislation stifling potential for more 'new Danes'
---
This article is more than 7 years old.
Turkey, Iraq, Somalia and stateless nations have led the citizenship way since 1980, but it's more difficult than ever to become Danish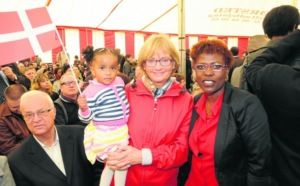 According to figures from the national statistics keeper Danmarks Statistik, some 228,000 people have been given Danish citizenship since 1980.
READ MORE: Just 11 percent of Danish citizens foreign-born
The largest group of 'new Danes' come from Turkey (27,147), followed by Iraq (18,631), stateless individuals from disputed territories such as Palestine and Kosovo (14,123), Somalia (12,417), Iran (11,571) and Bosnia-Herzegovina (11,132).
Other significant providers of new Danes since 1980 have been Pakistan, other nations from the former Yugoslavia, Sri Lanka and Vietnam. The average age of those given Danish citizenship has been 22.
READ MORE: More Brits wanting Danish citizenship in wake of Brexit
The DF factor
According to the figures, the number of new Danes peaked at the turn of the century – the number from all the nations listed above peaked between 2000 and 2002 – and then declined considerably along with the rise of the right-wing party Dansk Folkeparti (DF) and its influence on more stringent immigration legislation.
"They implemented demands, such as a Danishness test, and that had a short-term impact," Eva Ersbøll, a researcher in citizenship at the Danish Institute for Human Rights, told DR Nyheder.
"But after a while, as applicants passed the test, the number rose again. So Dansk Folkeparti wanted even tougher language demands and for fewer to be granted Danish citizenship. By the end of 2005, the demands were tightened again and the number of foreigners given Danish citizenship fell again."
Since 2010, the number of new Danish citizens hasn't exceeded 5,000 people annually.
Most people given Danish citizenship hail from developing nations, while just a few come from other western nations – although that might change in the wake of Brexit and Denmark's acceptance of dual citizenship.
In Denmark, just half of the foreigners who have been in the country for 20 years have obtained Danish citizenship. That figure, in contrast, stands at 85 percent the other side of the Øresund Bridge in Sweden.