News
Have a little patience sweet child o' mine: Axl and Slash reuniting in Copenhagen
---
This article is more than 7 years old.
Guns N' Roses ready to 'get in the ring' at Telia Parken Stadium next summer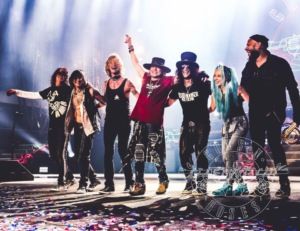 They'll all be there: Axl, Slash, Duff and Dizzy. A Guns N' Roses line-up straight out of 1990 (minus Izzy and Adler of course) will be bringing some 'November Rain' to the middle of the summer in Copenhagen next year.
The legendary rock band will perform at the Telia Parken Stadium on June 27 as part of their 'Not In This Lifetime' tour, which will hit 30 venues across Europe and North America in 2017.
Founded in 1985, GNR shot to stardom with their debut album 'Appetite for Destruction' featuring iconic hits such as 'Welcome to the Jungle', 'Sweet Child o' Mine' and 'Paradise City' before their second effort, the double-barrel albums 'Use Your Illusion I' and 'Use Your Illusion II', which went on to sell 35 million copies worldwide.
GNR revealed earlier this year that the band's original two frontmen, Axl Rose and Slash, would again share the stage following years of conflict.
Tickets will go sale this Friday at 10:00 at Livenation.dk
READ MORE: We have lift-off: Rocket Man is coming back to Denmark
Come away with Nora
In other music news, the US singer-songwriter Norah Jones will be performing at Tivoli's Concert Hall on July 15 following the release of her first solo album, 'Day Breaks', in nearly five years.
Known best for her sultry 2002 debut hit 'Come Away with Me', Jones is in Copenhagen as part of her world tour.
Tickets are priced at 385 kroner and go on sale on Thursday at 10:00 at Ticketmaster.dk.