News
Lukas Graham nominated for three Grammy Awards
---
This article is more than 7 years old.
Danish pop band will compete for best record, song and pop group performance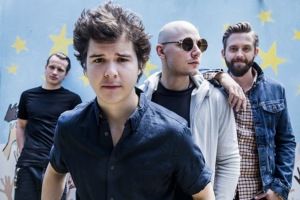 The Danish pop sensation Lukas Graham has been nominated for three Grammy Awards.
The band will be up against, among others, Beyonce, Adele, Drake and Justin Bieber in categories: best record, song and pop band performance.
Lukas Graham are nominated for their second album, which was released in 2015 and is often referred to as the 'Blue Album'.
READ MORE: You better Belieb it! Justin's coming back to Denmark
In the song-writing category, Lukas Graham will compete with their smash hit '7 Years' – a tribute to Graham's late father.
Lukas Graham consists of lead vocalist Lukas Forchhammer, drummer Mark Falgren, bassist Magnus Larsson, and keyboardist Morten Ristorp.
Another Danish musician – drummer Lars Ulrich – is nominated for a Grammy in the category 'Best Rock Song' along with the other members of Metallica for their track 'Hardwired'.