General
At Cinemas: Resistance is futile to ignore the rise of this Empire
---
This article is more than 7 years old.
But away from US politics, the world is eagerly awaiting the release of Rogue One: A Star Wars Story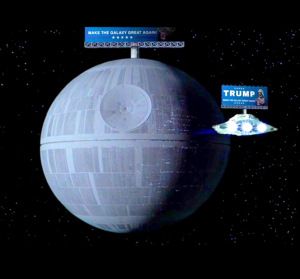 The once proud Republic has fallen. Democracy has failed the people. In its place there stands a ruthless dictator presiding over his newly-formed empire. All hope is lost.
No, I'm not talking about the recent US election. Rogue One: A Star Wars Story (release date: Dec 14) is the first film from the ever popular franchise to not carry an 'Episode' number, but its narrative occurs in continuity between the prequel trilogy (the ones that most discerning cinema-goers like to pretend never happened) and the much celebrated 'original trilogy'. That is to say that it is both an indirect sequel to 2005's Episode III: Revenge of the Sith and a prequel to the beloved original, 1977's Episode IV: A New Hope. You following this?
No doubt it's a challenge for Lucasfilm/Disney's publicity department to educate more casual Star Wars audiences, who are understandably expecting a sequel to last year's Episode VII. This isn't that. Instead it's a throwback to the Star Wars of old, when Vader was boss and the most destructive power in the galaxy was a giant metal moon that loomed ominously over planets before obliterating them completely. Let's hope Donald Trump never gets his tiny hands on one of those.
Rebel rebel
The film, directed by Britain's Gareth Edwards (Monster, Godzilla), will tell the story of how said metal moon had its top secret instruction booklet stolen from the Empire by a plucky bunch of rebel freedom fighters (or terrorists, depending on your politics). It promises to emphasise the 'Wars' in Star Wars, focusing more on the guerrilla tactics of 'boots on the ground' warfare than force magic and laser swords. Of course we know they'll succeed, since we've already seen Princess Leia stashing those instructions inside everyone's favourite dustbin on roller skates, after which they're then discovered by her brother – who she later gets off with – thus allowing him to know which thermal exhaust port to fire his torpedoes into. And yes, we're still talking about family viewing.
The leader of the terrorists/rebels is troublemaker Jynn Ersa (Felicity Jones), notably Star Wars' second proper female protagonist (points again for Disney) and the first non-Jedi lead. It transpires that she is selected for the mission because her father (Mads Mikkelson) reluctantly helped the Empire construct their mass-murdering moon. After all, Star Wars is ultimately a franchise about fathers who f**k everything up (and for those who say that the prequels' protagonist, Anakin Skywalker, never had a father, I say you're not watching Episode III carefully enough).
The Wookie strikes back
Alternatively, if a galaxy far, far away seems like too far to go for popcorn, there are some foolish distributors daring to face off with Disney's competition-killing science-fantasy franchise. None were so brave as to open in the same week, however, and December 8 is accordingly crowded with releases, all clamouring for your pocket money before Rogue One cleans up.
A Monster Calls is an adaptation of Patrick Ness's bestselling novel about a tree monster (Ent) who helps a young boy cope with his mother's terminal illness. Sigourney Weaver stars. Early word is positive.
Hell & High Water stars Jeff Bridges and currently enjoys an aggregate score of 88 on Metacritc. A father and his ex-con brother resort to bank robbery in order to save their family's Texas ranch. All signs point to a classic dusty American noir about good guys doing bad things for good reasons.
The comedy Office Christmas Party has Jennifer Anniston, Jason Bateman and a title that needs no further explanation – other than perhaps making clear that the film has nothing to do with Steven Merchant or Ricky Gervais.
The First Monday in May is a documentary following the preparations for the New York Metropolitan Museum of Art's most attended fashion exhibition in history, China: Through The Looking Glass. Described as "catnip for fashionistas", the film has received mixed reviews with an aggregate score of 57 from Metacritic.
The House of Mouse
Following the monumental flopping of The Lone Ranger and John Carter, Disney's acquisition of Lucasfilm and Marvel Studios has seen the mouse dominate at the box office once again. Currently, Cinemateket is going further back in time to the studio's golden age, when it churned out masterpiece after masterpiece. Starting with Dumbo on Saturday the 10th at 12:30 and Lady and The Tramp at 15:00, the lead-up to Christmas is packed with classics (see dfi.dk/Filmhuset for details).
Terence Davies, Britain's most criminally under-appreciated auteur, paid a visit to PIX last month to kick off a Cinemateket retrospective of his unique body of work. Fortunately you can still catch his most recent works: The Deep Blue Sea (Dec 10, 16:00 & Dec 17, 14:00), a delicately observed study of a doomed love affair in postwar London, and House of Mirth (Dec 10, 18:30, Dec 15, 18:00 & Dec 26, 15:00), which stars Gillian Anderson as a betrayed New York socialite in Davies' adaptation of the Edith Wharton novel (see dfi.dk/Filmhuset for details).
Bowie's raging balls
Huset is certainly not winding down for Christmas as it is presenting a promising line-up of 1980s and 90s cult cinema.
Presented by Vesterbro Drag Udlejningsservice (Rent-a-Drag?) is Priscilla, Queen Of The Desert, an Abba-tastic cross-country, cross-dressing, road-trip odyssey that features standout performances from Guy Pearce, Hugo Weaving and Terence Stamp. It screens on Friday the 9th at 19.00 – tickets cost 70kr.
On Saturday at 19:00 there's Huset's ever popular The Big Lewbowski Drink Along (100kr), followed on Sunday at 14:00 by David Bowie's proudly-displayed package in Jim Henson's Labyrinth (50kr).
Finally, during the US election, Robert De Niro expressed a desire to punch Emperor-Elect Trump in the face. Though now unlikely to happen, you can at least imagine it when Huset screens Raging Bull, De Niro's best performance (and arguably Martin Scorsese's best film). from a 35mm film print. The masterpiece screens on Thursday the 15th at 18:30 and tickets cost 50kr (huset-kbh.dk).