News
Foreign minister to meet Syrian opposition in Copenhagen
---
This article is more than 7 years old.
Anders Samuelsen contends that the moderate Syrians are critical in solving the conflict politically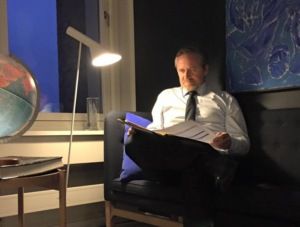 As the conflict continues to fester in Aleppo, Denmark's foreign minister, Anders Samuelsen, will meet with members of the Syrian opposition in Copenhagen tomorrow.
The meeting comes as thousands flee Aleppo as Syrian government forces continue their assault on the war-torn Syrian city.
"The Syrian opposition that I will meet with on Friday plays a central role in reaching a political solution to the conflict," said Samuelsen.
"I condemn the ruthless attacks and abuses perpetrated by the regime and its allies in Aleppo and the rest of Syria."
Samuelsen said that Denmark would continue to push for a national ceasefire and unhindered humanitarian access through the UN and EU.
READ MORE: Thousands of Danes to demonstrate in support of civilian victims in Aleppo
Moderates are key
Denmark will support the moderate Syrian opposition, which is viewed as an essential counterbalance to the extremist groups operating in the nation.
The support will involve the Free Syrian Police, Syrian civil society and the White Helmets, among others. The foreign minister admits there is very little Denmark and the international community can do to halt the conflict.
"The truth is that if you don't want to go in with troops and get directly involved with the war – and I haven't heard anyone in Parliament advocating that – then there is not much else to say except that we're witnessing a catastrophe," Samuelsen told TV2 News.
Samuelsen wrote on Twitter yesterday that he had ordered the Danish embassy in Russia to register a protest with the Russian Foreign Ministry regarding the situation in Aleppo.