News
India sends new request to extradite Danish gunrunner
---
This article is more than 7 years old.
Danish authorities promise the case of Niels Holck will be dealt with quickly and thoroughly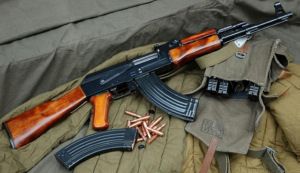 The Justice Ministry has received a new request from the Indian authorities for the extradition of gunrunner Niels Holck aka 'Kim Davy', who has been imprisoned on charges of delivering four tonnes of weapons to Bengali separatists in 1995.
"I can confirm the Justice Ministry has received a request for extradition from India. Public Prosecutions will now consider the request under the provisions of the Extradition Act," stated the justice minister, Søren Pape Poulsen.
"Obviously, it is important the matter is treated as soon as possible, and with the thoroughness that such matters require."
READ MORE: Gunrunner would agree to trial on neutral ground
Previous attempts failed
In 1995, Niels Holck, Peter Bleach and a crew of five Latvians dropped four tonnes of weapons out of a plane in India's eastern state of West Bengal, which included hundreds of AK-47 rifles, pistols, anti-tank grenades, rocket launchers and million of rounds of ammunition.
Bleach, a British citizen, and the Latvians were caught and imprisoned in India for their part in the so-called 'Perulia arms drop', but Holck managed to evade capture, eventually returning to Denmark.
India first requested Holck's extradition in December 2002, when the Danish terror law opened the possibility of extradition of Danish nationals to countries outside the Nordic region.
However, after a long process, the Eastern High Court in Copenhagen ruled in June 2011 that the 50-year-old Dane could not be extradited due to a high risk of torture in an Indian prison.
Following the final ruling, Indian officials announced they were "freezing" ties with the Danish state.