InOut
January Events: Camping's moved on!
---
This article is more than 6 years old.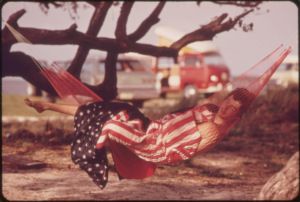 Camping Fair
Jan 20-22, Fri 14:00-20:00, Sat 10:00-17:00, Sun 10:00-17:00; Bella Center, Center Boulevard 5, Cph S; over-12s: 80kr, under-12s: 20kr, discounts available for family tickets; campingibella.dk
Bella Center is still undecided over whether there will be a Holiday Fair this year, which might surprise many, given how it has been a regular fixture in Denmark's dreariest month for so long – a welcome injection of endorphins as you visualise the rewards waiting for you if you can make it through another winter.
But camping? It doesn't quite fill you with the same level of anticipation. Freezing nights and mornings, trying to get the campfire started in a force-10 gale, setting up or dismantling your tents in the rain, and waking up being poked by a sharp object (feet in the face is unpleasant enough, but in the midriff, that tends to be illegal) – you wonder why you bother, or at least until you arrive and breathe in that country air and let your mind rest.
More than any other holiday, camping offers a fantastic chance to get away from it all. Leaving all your electronic devices at home, it's a welcome chance to switch off, recharge and ultimately count your blessings for all the modcons that make modern life such a breeze.
Still, camping's come a long way since our youth, when it was often perceived to be more of a punishment than a pleasure.
Come and find out what modern caravans, motorhomes, tents and camping equipment look like. You'll be surprised. (BH)
Wedding Fair
Jan 14-15, 11:00-17:00; Forum, Julius Thomsens Plads 1, Frederiksberg; 100-125kr; denstoredag.dk
Has that holiday romance turned into something more serious? Is that the sound of wedding bells? Then head to Forum for the 2017 Wedding Fair.
Prospective bridezillas and their patient grooms can walk blissfully hand-in-hand among the 140 exhibitors.
Survey luxury limousines, tiered cakes, beautiful bouquets, glistening rings and, of course, you'll have the chance to say yes to the dress.
Caterers will provide a taste of possible reception cuisine while you wait for the twice daily wedding fashion show.
And there's menswear too, so there are no excuses to sit this one out. (PS)
VOID Film Festival
Jan 26-Feb 4; most screenings at Cinemateket, Gothersgade, Cph K; voidfilmfestival.com
If you want Disney, forget about it – unless of course we're talking about Fantasia, the backdrop of many trips into the great man's self-conscious.
Now in its second year, VOID is an international animated film festival aimed at adults that "celebrates animation as an art form that knows no limits".
VOID welcomes submissions from the public, providing the film was made after 1 January 2015, so expect a few experimental works on offer.
In the meantime, if you're looking for kid-friendly films, Cinemateket is showing a classic Disney season in the build-up to Christmas. (BH)
Afternoon Singing
Jan 25, 17:00; Nørrebro Teater, Ravnsborggade 3, Cph N; 50kr, nbt.dk
Singing in the shower not quite doing it for you? Under the expert guidance of conductor Jon Hollesen and pianist Mads Strandgaard, join fellow songbirds at 'Fyraftenssang'. With celebrity guests appearances! (AA)
Beer Pong event
Jan 12, 18:00; Københavns Universitet, Nørregade 10, Cph K
Is it childish? Probably! Will it be cancelled? Probably! But free beer is free beer, and should enough people sign up (organiser PulsEvents CPH says 1,000 are needed by the event sponsor!), this will be as good a reason as any to break your NY Resolution. (BH)
Opera2Go & Dans2Go
Jan 10, Feb 2 & 21; Opera House, Ekvipagemestervej 10
Jan 10-14, 16-18, 21 & 23; Gamle Scene, Kongens Nytorv 9
200-245kr, kglteater.dk
You know the score. Enjoy three to four vignettes lasting no more than 30 minutes from a good seat for a fraction of the normal price. (BH)
The Head and the Heart
Jan 16, 20:00; Vega; 160kr
Formed in 2009, The Head and the Heart are an indie-rock and folk band from Seattle. Their success is heavily linked to television, having appeared on Conan O'Brien's late night talk show, as well asseries like How I Met Your Mother and Chuck. (YY)