News
'Jackie' star ordered to pay damages after auditioning for JFK role while on sick leave
---
This article is more than 6 years old.
Danish actor Caspar Phillipson left London Toast Theatre in the lurch for a week when he travelled to Paris for casting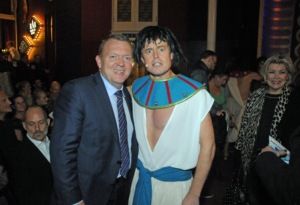 As Denmark unwinds from a standout year for breakout actors in which Alex Høgh Andersen grabbed the lead role in 'Vikings' and Linnea Berthelsen landed a significant role in the second season of 'Stranger Things', few will dispute that the biggest surprise of 2016 was the casting of Caspar Phillipson in a pivotal role in a film tipped to challenge for Oscars.
Chosen for his uncanny resemblance to John F Kennedy to star in 'Jackie' alongside Natalie Portman, the second favourite to win the Academy Award for best actress, the bit-part actor Phillipson was the right man in the right place at the right time, it seemed.
But his luck ran out in court last week when he was ordered to pay 116,000 kroner plus costs to London Toast Theatre for the inconvenience he caused its 2015-16 Crazy Christmas Cabaret production of 'Don't Touch Nefertiti'.
Sick leave in Paris
When Phillipson learned he had been invited to a Paris casting for the part of JFK, he realised he would need to miss at least five sold-out shows to attend the audition. However, a major role has been especially written for the actor, and London Toast refused to give him permission to take the time off.
Phillipson went on sick leave, citing poor psychological conditions at the theatre, and then dashed off to Paris. So not only were they short of a key actor, but London Toast had to pay him during his absence, and that was the final straw, its theatre director Søren Hall told Berlingske.
"That was the final limit," he said. "Our theatre doesn't get any subsidies, so we survive on ticket sales alone. If we had ended up cancelling seven to eight performances, it would had cost us a million kroner. It could have broken us."
Precedent could hit disloyal actors
It is believed that the court's decision could set a precedent and make theatre actors think twice about abandoning a job in favour of another – a practice that is rife in the industry.
Kasper Wilton, the chair of Danske Teaters Fællesorganisation, believes more of his members will go to court in the future. "There's nobody as long-suffering and patient as a Danish theatre manager," he told Berlingske.
According to the newspaper, the original cast of A Winter's Tale, a modern Shakespeare adaptation currently playing at Republique, all walked out and had to be replaced.
Fortunately, London Toast was able to avoid any cancellations. It quickly replaced Phillipson with another actor, who performed the first week reading from a hastily rewritten manuscript.