News
Maersk Tower opens at University of Copenhagen
---
This article is more than 6 years old.
Queen Margrethe II at hand to inaugurate new medical research building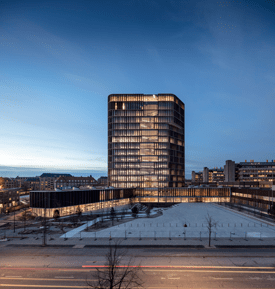 The University of Copenhagen increased in size by some 42,700 sqm today with the official opening of the 75 metre-high Maersk Tower.
The new building was officially opened by Queen Margrethe II. Representatives from Maersk, the Chastine Mc-Kinney Møller Foundation and the architectural firm CF Møller were joined by other guests at the opening ceremony.
"The inauguration of the Maersk Tower marks a milestone for medical research at the University of Copenhagen," said Dean Ulla Wewer from the Faculty of Medicine at the University of Copenhagen.
"The new tower will allow our researchers to expand their knowledge through the use of highly-specialised laboratory facilities, and our students will benefit from ultra-modern lecture halls and common areas."
A big project
Wewer said the tower will be a "building that embraces all aspects of research".
The energy-efficient building, which has been six years in the making, is one of the largest construction projects in the history of the university.
READ MORE: Mærsk family gives one billion kroner to schools
There was an international contest to design it in 2010, and the site was established in 2012. Construction commenced in that same year and was completed late last year.