News
Nej, nej, nej!!! Denmark crash out of Men's Handball World Championship
---
This article is more than 6 years old.
Hungary spring surprise on hapless Danes in last 16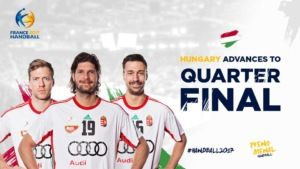 Denmark's Men's World Championship curse remains intact following a disappointing 25-27 loss to Hungary in the last 16.
The Danes swept through the group stage undefeated, but the return of Hungary's talisman Laszlo Nagy from injury, coupled with a poor performance from the Danes, led to their demise.
Aside from crushing Danish dreams, the loss also means that another Nordic battle has evaporated as Hungary, and not Denmark, will move on to face Norway in the quarter-finals.
Curse alive
Denmark has reached ten World Championship semi-finals since 1938, finishing fourth six times, third once and runner-up three times (most recently twice in a row from 2011-2013).
Now they'll have to wait another two years to break the curse. The good news is that in 2019 Denmark will be co-hosting the tournament with Germany.