News
Danish warship heading to fight Islamic State
---
This article is more than 6 years old.
The frigate Peter Willemoes left Korsør yesterday to link up with the US-led Combined Maritime Forces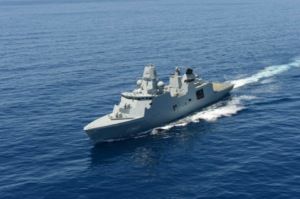 The Danish frigate Peter Willemoes has upped anchor and is on its way to the Middle East to take part in the ongoing battle against the jihadist organisation Islamic State (IS).
The ship departed from Korsør yesterday and is on its way to link up with the US-led Combined Maritime Forces (CMF) in the Mediterranean Sea. Peter Willemoes will become part of the aircraft carrier group Carrier Strike Group 2, which consists of 12 ships in support of the US carrier USS George HW Bush.
"Operating in a carrier group like this will strengthen Denmark's ability to enter into complex multi-national naval operations in the future," said Rear Admiral Frank Trojahn, the head of the Danish Navy.
READ MORE: Danish Defence to monitor refugee traffic in Mediterranean Sea
Covering lots of sea
The mission, which will last until the beginning of May, will involve the Danish frigate assisting the carrier group in the Mediterranean Sea, Red Sea, Gulf of Aden, Arabian Sea, Persian Gulf and part of the Indian Ocean.
The Danish ship's primary task will be to collect and share radar images with the rest of the units in the group, but it may also maintain co-ordination and control of air traffic around the group.
Peter Willemoes was the first of three Danish frigates commissioned by the Navy in 2014 – the others being Iver Huitfeldt and Niels Juel – and is built as an air-defence frigate, the first of its kind in Danish naval history.
The frigate has radars that can monitor areas with a radius of 400 kilometres and sail 16,660 kilometres on one fuel tank (also known as its 'action radius'). It has a crew of about 150.