News
Nørrebro among most hipster neighbourhoods in Europe
---
This article is more than 6 years old.
Copenhagen district ranked 12th on Travel Supermarket list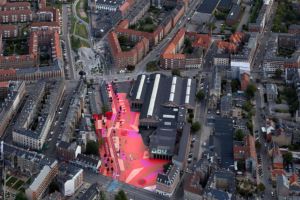 Strolling down the streets of Nørrebro may well result in a spike in beards, tattoos and hand-craft clothing than is typically the case. And there's a good reason for that.
The Copenhagen neighbourhood has just been listed as one of the most hipster neighbourhoods in Europe, ranking 12th, according to the travel site Travel Supermarket.
Nørrebro scored 24 out of 30 on the 'Hip Hangout Score' scale. The list highlighted Superkilen as being the area's most 'Instagrammable' place, Coffee Collective cafe as the best location for coffee, and Nørrebro Bryghus as the top eatery destination.
"Look out for art events and festivals each summer in Copenhagen. The annual 48timer festival, like so many other places and events in Nørrebro, celebrates the cultural diversity of the district with food, music and art shows taking place over a weekend – in venues as varied as private backyards and public squares," wrote hipster blogger Adam Groffman, one of the two behind the guide.
READ MORE: The Copenhagen tours using this map visit Chlamydia Castle and the Hipsterlamic State
Kreuzberg killing it
Nørrebro scored nine out of ten in the two categories 'Hip Culture Outpost' and Creative Capital', while struggling a bit in the 'Traveller Value' category.
The list was topped by Kreuzberg in Berlin, which scored 28, followed by Miera Iela (Riga), Ancoats (Manchester), Praga (Warsaw), Södermalm (Stockholm), Melelkova (Ljubljana), Pigneto (Rome), Grunderlokka (Oslo), Sredets (Sofia), Exarchia (Athens), Kalamaja (Tallinn) and Nørrebro.
See the list here (in English).