News
DSB development could spell end of iconic cinema in Copenhagen
---
This article is more than 6 years old.
Palads Teatret at Vesterport Station could be replaced by a high-rise building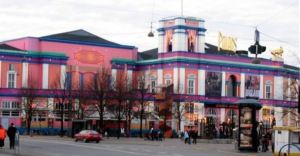 One of the most iconic buildings in Copenhagen, the pastel-coloured cinema Palads Teatret on Axeltorv, may soon become history if a new project for a high-rise complex is approved, reports Politiken.
According to documents obtained from the municipal finance board and the engineering and environmental board, DSB Ejendomme has in partnership with a private developer submitted a proposal that would mean tearing down Palads and erecting a large-scale construction in its place that would extend across the railway at Vesterport Station.
Still under negotiation
DSB Ejendomme, which owns the station and the space over the tracks, is currently in dialogue with Nordisk Film, the owner of Palads since 1929, and the company has said it could embrace the new development.
According to the plans, the new buildings would continue to include a cinema, as well as apartments, restaurants, a public courtyard and a small theatre.
However, it still remains uncertain whether the project will get a green as it has already encountered critique for having a high built surface ratio.
Cinema at former central station
Palads Teatret opened in October 1912 in Copenhagen's former central railway station on Axeltorv, which had ceased operations in 1911.
With a capacity of 3,000 seats, it was then Scandinavia's largest entertainment centre.
In 1989, Poul Gernes gave it its iconic pastel-coloured coat that stands out among the surrounding grey buildings.