News
Eyes high in the sky: Danish plane spots cannabis smugglers in Med
---
This article is more than 6 years old.
A Challenger aircraft flown by the Danish Air Force over the Mediterranean found a vessel loaded with dope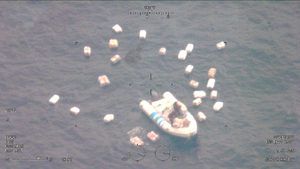 A Danish Challenger aircraft on a monitoring mission in the Mediterranean on Sunday spotted a boat headed for Italy carrying half a tonne of cannabis.
The aircraft has been deployed to Sicily to monitor the EU's southern borders. On Sunday, it was flying a six and a half hour mission east of Italy.
"We saw a high-speed inflatable boat that we thought looked a little suspicious," Michael Nunkner, the captain of the plane, told DR Nyheder
"There were two males onboard and controls at the rear and the front. There were also packages tied to the boat, so it piqued our interest."
Nunkner said that when the men on the boat saw high-speed police boats approaching they began to unload all their packages into the sea and then tried to outrun the cops.
The Italian police arrested two Albanian men and fished out 28 packages totalling more than half a tonne of cannabis.