News
Oh deer! Record-sized herd of red deer roaming Danish field
---
This article is more than 6 years old.
Over 1,000 animals spotted by biologists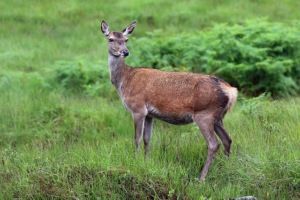 The largest herd of red deer ever seen in Denmark has been counted in a field in western Jutland. Over 1,000 deer are roaming near Vind Hede just southwest of Holstebro.
"It is safely a record for Denmark," Jens Henrik Jakobsen, a wildlife consultant at Naturstyrelsen Vestjylland, told DR Nyheder.
The large herd of deer in the area has been around for several years, but it is larger than ever this year.
A lot of venison
Biologist David Boexrtmann started a count in December and registered 350 animals to start with.
"As the count continued, more and more animals came to the field from the edges of the forest," he said.
"They poured in for over a half hour and we ended up with over 1,000 red deer all together right below our observation point. A fantastic sight."
The population of red deer in Denmark has grown dramatically in recent years and there are now probably more than 25,000 animals in the country, but this is the largest single herd ever recorded. The red deer is one of the largest deer species and it inhabits most of Europe, the Caucasus Mountains region, Asia Minor, Iran, parts of western Asia and central Asia
READ MORE: Deer running amok in Denmark
"There is no doubt that the tranquility of the location means a lot," said Jakobsen.
"It is an important factor for the deer."