News
Young Dane sacked for forgetting to pay for a cup of coffee
---
This article is more than 6 years old.
"Stealing is stealing" reasons company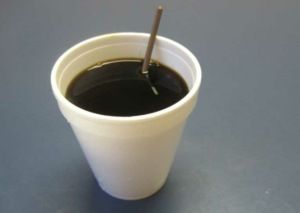 In January, 17-year-old Buster Hoff was fired from his job as a youth worker at a SuperBrugsen in Odense.
The reason? He forgot to pay for a fiver kroner cup of coffee.
"I was shocked," Hoff told fyens.dk. "It's true that I forgot to pay for the coffee. It was dumb and I should have received a reprimand, but it seems extreme to be fired over it."
Hoff had asked if he could have a cup of coffee while working the late shift on January 3. He was told that he could, so long as he didn't drink it in front of customers. Another employee reminded Hoff to pay for the coffee at the end of his shift, but Hoff said it slipped his mind.
When he was later called into the office, Hoff suspected he was going to be dressed down for being late for a shift, but instead he was handed a pink slip stating that he was being fired for "failure to pay for coffee/cocoa".
Too much?
Hoff said that the manager who let him go told him: "We have to clamp down or everyone will think it's okay."
The young man said the management at his store had always treated him fairly, and that he feels that the problem lies with Coop, the parent company that runs SuperBrugsen and many other Danish supermarkets.
"They cannot tell the difference between an honest mistake and theft," he said. "A simple mistake should not be so severely penalised."
READ MORE: A grim reality faces the young and unemployed
Hoff said that the most unpleasant outcome of his coffee caper is that he is now blackballed from working for any Coop store for the next three years.
No quarter given
Coop information director Jens Juul Nielsen did not want to comment on a specific case, but said that the company policy is that stealing is stealing, regardless of the size of the theft.
"It is a principle that one must not take products in our stores without paying for them. The consequence is expulsion," he told TV2.
"We do not make comparisons on the value of the theft. With 40,000 employees, we believe that it is important to have simple guidelines and that they are clearly communicated to our employees."