General
Vinterjazz: Nordic highlights in Montmartre
---
This article is more than 6 years old.
Jazzklub Montmartre presents program of Nordic music during Vinterjazz 2017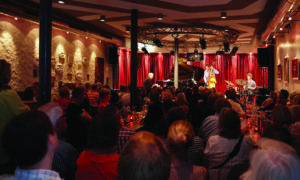 Legendary Copenhagen jazz club presents a programme of Nordic music this February
Jan Lundgren, one of Scandinavia's most in-demand jazz pianists, was recently appointed artistic director of the venerable Copenhagen club, Jazzhus Montmartre. As well as enjoying enormous respect from fellow musicians, Jan has considerable experience in running festivals; he's been artistic director of the Ystad jazz festival since being one of the founders of it in 2010.
Future plans
With this pedigree, perhaps it is no coincidence that for Vinterjazz, Jan has put together a programme focusing primarily on Nordic music. The Copenhagen Post spoke to Jan and asked him about his plans for the future at Jazzhus Montmartre.
"Although it's a small club, artists like to play at Montmartre and to support it, which says a lot about its reputation. My ambition is to maintain that high reputation. Because of my involvement with the Ystad jazz festival, I'm lucky enough to have a broad range of contacts.
Above all, I want to show that jazz covers a wide spectrum of styles and is not limited. It's a very open form of music."
A few highlights
To that end, kicking off, from 2-4 February, Jan will be leading a quartet comprising bassist Hans Backenroth, guitarist Ulf Wakenius and drummer Morten Lund. Expect straight-ahead jazz of a very high calibre. The players have the advantage of being familiar with each others' styles from other constellations.
On 9 February, drummer and percussionist Marilyn Mazur performs in a trio with vocalist Josefine Cronholm and Krister Jonsson on guitar. Speaking about this band, Jan said that "Marilyn has been on top of my list from the beginning. Since her days playing with Miles Davis, she's been one of the top Danish jazz artists. Josefine Cronholm is Swedish but lives in Denmark and is a great vocalist."
From 16-18 legendary Norwegian bassist Arild Andersen can be heard with Scottish tenor sax player Tommy Smith and Italian master-drummer Paolo Vinaccia. This is a seasoned group. Although Andersen is over 70, he is still in prime form and his playing is as exciting as ever. The music will be a mainly acoustic, but with electronic elements added.
On 21 February, Montmartre showcases a new Danish duo comprising Oilly Wallace on alto sax and Johannes Wamberg guitar. Jonathan Bremer, who released their recent LP, says of them that "both of them are young, but they play with great feeling and depth. They have a great musicality and they've been friends for a long time, so they actually learned how to play together. This gives them a very special, symbiotic interplay".
22-25 February sees vocalist Cæcilie Norby, pianist Iiro Rantala, bassist Lars Danielsson and Klaus Menzer on drums taking the stage. By now, Cæcilie hardly needs any introduction to jazz fans, and as Jan says, her eclectic mix of musical styles reinforces the fact that she is "a big star in Danish music and this is a great band".