News
Copenhagen makes big splash with massive water park
---
This article is more than 6 years old.
The world's fifth-largest indoor aqua park is being planned in Høje-Taastrup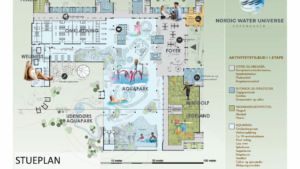 Kids, tourists and leisure-lovers alike can look forward to enjoying a massive aqua park in the not too distant future, as the fifth-largest indoor waterworld in the world is being planned in the western Copenhagen suburbs.
'Nordic Water Universe' in Høje-Taastup Municipality is the park's early working title. It will cover an area of 840,000 sqm divided into two areas: a vacation and amusement ride area, and a recreational nature park.
"It's a fantastic project – for Høje-Taastrup and the rest of Denmark," said Michael Ziegler, the mayor of Høje-Taastrup Municipality.
"We are talking about the world's fifth-largest aqua park, which will become an attraction without comparison near Copenhagen. A vacation, recreational and nature park that will be able to attract thousands of guests – from families with children and conference participants to tourists from abroad."
Construction isn't expected to begin until later this year, but the world's biggest hotel operator, Wyndham Hotel Group, is already signed on for the ambitious project.
READ MORE: Legoland parks around the world thriving
Position to grow
According to the plans, the project will be built over five phases – the first, which is scheduled to be completed by 2020, will consist of 81,100 sqm of vacation homes, aqua park areas, amusement rides, shops, cafes, restaurants, a hotel and conference facilities.
The whole thing is expected to be finished by 2028, generating over 1,000 new jobs once the first phase has been completed, and about 3,000 jobs when all five stages have been finished. It is estimated that the aqua park will attract almost 3 billion kroner in tourism revenue when completely finished.
"As opposed to many other similar resorts in Europe, this project is prepared, via its size, to handle many years of guest growth," said Ulf Høyen from Nordic Corporate Finance, which represents the group behind Nordic Water Universe.
"We look forward to realising that in co-operation with Høje-Taastrup Municipality."