News
Danish Tabloid News in Brief: No love lost for Trump or baldy, but plenty for Woz
---
This article is more than 6 years old.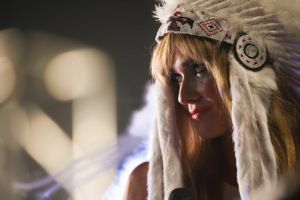 Trump's most insane proposal yet?
In the build-up to the US Presidential Election, a day didn't go by without a woman claiming some sort of misappropriate altercation with Donald Trump, but Danish singer Oh Land has chosen to remain quiet …until now. In an interview with the P7 radio program 'Sangskriver' ('Songwriter'), she revealed that Trump knocked on her dressing room door after they both appeared on the 'The Late Show with David Letterman' in 2011. "You're beautiful. I need a Scandinavian wife," he told her. Voice Junior coach Oh Land, 29, whose real name is Nanna Oland Fabricius, recalled that the married TV presenter looked "klamt" (obnoxious) and like a "klamhugger" (cowboy pig) and a "stort svin" (large pig).
Woz gets an extra 12 inches
Caroline Wozniacki is up to her tricks on Twitter again, this time using the platform to confirm she received a bunch of roses off David Lee, the NBA star she has been romantically linked with since October 2015. She used Twitter to thank @dlee042, and then her brother Patrik confirmed to Ekstra Bladet that the pair are indeed an item. Lee, who stands 206 cm tall – the same height as 175 cm Rory McIlroy when he is mid-swing – plays for the San Antonio Spurs.  Wozniacki is 179 cm tall.
Is X Factor judge on crack cocaine?
X Factor judge Thomas Blachman has been called out by Danish singer Fallulah for having an outdated view on women. The bald-headed mainstay of the successful show would rather women look pretty and keep their mouths shut for entertainment's sake, said Fallulah, who is sick of the way Blachman shuts them off in conversation. On last week's 'X Factor', Blachman said it was important that one of his singers in his under-25 group was male, even though this meant getting rid of a better performer. He eventually ejected Rosa, Fallulah's favourite, to which the singer questioned: "No no no. Are you on crack cocaine, Blachi?"