News
Oil-leaking cargo ship towed to shipyard in Odense Fjord
---
This article is more than 6 years old.
Oil spill is relatively small thanks to low seawater temperature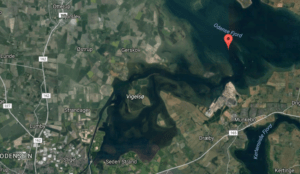 The Portuguese container ship Victoria, which last Friday ran aground north of the Danish island of Funen and started to leak from its fuel tanks, is today being towed to the Fayard shipyard in Odense Fjord.
Some oil spills have already been found on the beaches of the island of Endelave, north of Funen, and in the bay at As Vig on the east coast of Jutland.
However, according to Daniel Ammitsbøl, a lieutenant at the Defence Operation Centre who is leading the emergency operation, the environmental impact of the spill is relatively low because the oil has solidified inside the fuel tanks thanks to the low seawater temperature.
READ MORE: 3,000 litres of oil spilled into Danish fjord
Nevertheless, there is a risk more oil could leak from the cargo ship during its transport to the Fayard shipyard in Odense Fjord, and so the rescue operation includes three skimmers that will collect any spills.
The authorities have decided to tow the damaged container ship to a shipyard and pump the oil out once it is safely docked, instead of performing the emergency operation at sea, which would have taken much longer and could present unforeseeable risks due to bad weather.
Ammitsbøl expected the vessel to reach the port at around 13:00 today.