News
It would take 133 days to view his child porn collection – the maximum sentence is a year
---
This article is more than 6 years old.
62-year-old man denies guilt in historic case, as lawyer requests longer sentence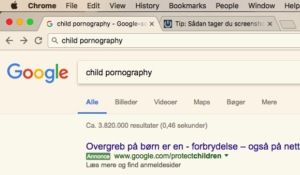 Charges filed on Wednesday at the Copenhagen City Court accuse a 62-year-old Vesterbro man of possessing so much child pornography in his apartment that it would take 133 days to view the more than 500,000 illegal images, some of which fall into the most obscene categories.
The prosecutor told the court that the case is so serious that he will ask that the normal maximum sentence for possession of child pornography be increased. The crime is typically punishable by a maximum of one year in prison.
"This case is among the three largest cases of child pornography possession we have had in Denmark," prosecutor Jakob Buch-Jepsen told Jyllands-Posten.
In addition to his possession of child pornography, the man is accused of molesting a 12-year-old boy he met on a beach.
Denies charges
A video of the assault was played in court. It showed the accused repeatedly smacking the boy on the backside and appears to show him touching the boy's crotch.
"It was innocent play," said the man. "I was not sexually aroused."
The accused man denied the prosecution's entire case, saying that the massive amount of child pornography found in his apartment was left by some tenants.
READ MORE: Child pornography victims getting younger and subjected to more violence
The man told the court that he found child porn "disgusting".
"I am not into children," he said. "I started with women and had lovers my age. I have since switched to men."
Online love
The man currently admits to having a relationship with a 27-year-old man from the Philippines. The two have never met. The relationship takes place entirely online.
"We are really happy together," said the accused.
After the illegal pornography was found in his apartment, the man wrote a 19-page letter to Copenhagen Police to explain himself in which he admitted spending several thousand kroner on legal pornography on the internet.