General
What's on TV (Feb 24-March 9): It's Oscar Night
---
This article is more than 6 years old.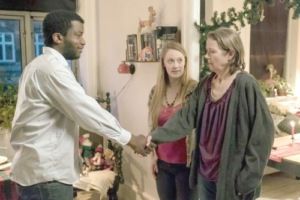 Pick of the Week
Silent Nights
TV2, Feb 26, 23:15
(also DR3, Feb 27, 23:00)
They never hang around when it's Danish. Ahead of the Oscars, watch the Danish nominee in the Live Action Short Film category, Silent Nights, a tale about a Copenhagen girl Inger (Malene Beltoft Olsen) volunteering at a housing shelter, who meets and falls in love with an illegal immigrant from Ghana (Prince Yaw Appiah).
Directed by Aske Bang, the film is the sixth Academy Award nomination for producer Kim Magnusson.
Meanwhile, there's also a chance to watch Magnusson's Helium (DR3, Feb 26, 23:55), the last Danish film to win the award, although perhaps annoyingly it starts at exactly the same time as TV2's live coverage from the red carpet, which is followed by the ceremony at 02:30 (highlights show: DR3, Feb 27, 23:00). (LH)
Also New
The ever-popular Dustin Hoffman and Judi Dench, star as neighbours in Roald Dahl's Esio Trot (SVT2, Feb 26, 22:15), a child-friendly romantic TV movie tailor-made for the British festive season.
Neighbours also feature in Israeli-made The Settlers (SVT2, Feb 27, 22:15), which takes us inside the world's most controversial community.
The subject of Last Whites of the East End (DR2, Feb 26, 20:00) might have similar gripes, and it was criticised for portraying ethnic diversity negatively.
From the death of the cockney to the murder of Kitty Genovese and The Witness (DR2, Feb 28, 20:45), the crime that divided New York in 1964 after multiple witnesses saw her die but did nothing.
Then again, thousands enjoy the brutality of Palio (DR2, Feb 28, 23:50), a horserace in the centre of Siena that sounds like Death Race 2000.
Elsewhere, the Danish Melodi GP (DR1, Feb 25, 20:00) – among those competing to go to Eurovision is British X Factor star Sara Vidoo (DR3, March 1, 21:00), who now has her own series – is followed by MGP (DR1, March 4, 20:00), the junior version; complement the Brit Awards (DR3, Feb 24, 21:50) with a trip to Inside British Vogue (DR3, March 7, 19:50); and who doesn't like a bit of Madness in the Fast Lane (DR3, Feb 24, 20:10)? (BH)

Coming Soon
Marriage, motherhood, and murder: the HBO adaption of Liane Moriarty's famous novel Big Little Lies (Metacritic: 77, out on HBO Nordic) promises us entertainment and intrigue. Located in a Californian suburb, the series focuses on the secrets of first grader mothers played by Nicole Kidman, Reese Witherspoon, and Shailene Woodley.
The "storyline mixes female rivalry with solidarity, showing how intense experiences can bond women together", praised the Guardian.
Staying in the suburbs, Drew Barrymore plays a cannibalistic mother in the Netflix comedy series Santa Clarita Diet (67) – a reminder that marriage is about making compromises.
Whether an amorous defence attorney (Katherine Heigl) can compromise with the accused is examined in the CBS series Doubt (61) by the producers of Grey's Anatomy.
Who would love an X-man? Well, it helps if he's played by Dan Stevens, who had legions of fans as Matthew Crawley in Downton Abbey.
Legion (82) comes highly recommended, as does The New Edition: Story (76), a miniseries about Bobby Brown's childhood years, and FEUD: Bette and Joan (79), a promising new anthology series inspired by the backstage fights between Joan Crawford (Jessica Lange) and Bette Davis (Susan Sarandon). (LH)
Sport of the Week
The Saints shocked Man United at Wembley to win their only major trophy 41 years ago, so can history repeat itself in the League Cup Final (K6, Feb 26, 17:30)? And can Barca claw back a four-goal deficit against PSG in the CL (3+, March 8, 20:45)? Elsewhere, the pick of the EPL games is Liverpool vs Arsenal (3+, March 4, 17:30) and there's a live NBA game on every night on TV2 Sport. (BH)
Film of the Week
Oscar weekend brings the best out of the commercial channels with 2015 nominee The Imitation Game (TV2, Feb, 21:00) and X Men: Days of Future Past (TV3, Feb 26, 21:00) leading the charge. Also recommended are Carnage (SVT1, Feb 28, 23:00), The Good Lie (DR2, Feb 24, 20:00), Fury (TV3, March 5, 21:00), How I live now (DR3, March 5, 23:05) and My Way (SVT2, March 9, 22:20), a biopic about its French writer. (BH)