News
Noma names Gambian dishwasher a partner in its business
---
This article is more than 6 years old.
Ali Sonko has embodied the restaurant's spirit since its opening in 2003, explains owner René Redzepi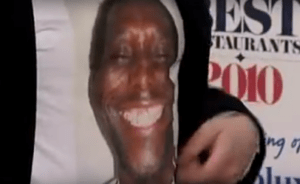 You might recognise Ali Sonko's face. He adorned the t-shirts of the ten Noma staff who climbed on stage to pick up the Copenhagen eatery's world's best restaurant award back in 2010.
Denied a visa by the UK authorities, the now 62-year-old Gambian could only be there in spirit, although he did make it over when Noma made it three-in-a-row in 2012, on which occasion he addressed the world's press.
It was quite some moment for a dishwasher.
And now Noma's owner and head chef René Redzepi has rewarded his loyalty, which has seen him wash dishes at the restaurant these past 13 years, by making him a partner, reports Berlingske.
A new partner for a new dawn
Noma enjoyed its last days of operations at Strand Street 93 in Christianshavn on February 24, where it has been based since 2003.
It is scheduled to reopen at a new venue on Refshaleøen on December 1, providing the architecture firm Bjarke Ingels Group has finished its ambitious project to build ten small outbuildings and a large one inhabiting an old mine depot.
READ MORE: Noma to close and reopen with a floating farm
A trip to Mexico in the meantime to set up a popup restaurant this spring will keep most of the staff busy.
READ MORE: Vaya amigos: Noma opening restaurant in Mexico
Noma's soul
Redzepi made the announcement regarding Sonko, who has lived in Denmark for 34 years, at a wrap party on Saturday attended by 250 staff and guests
"It's great construction project, but what's it all worth if we do not have employees?" he asked,  according to Berlingske.
"Ali is Noma's soul. I do not think people understand how much it means to have someone in the house like Ali, who is always happy and smiling, no matter how it's going with his 12 children."
Like father, like favourite employee
Redzepi's father also worked as a dishwasher when he arrived in the country as an immigrant from Macedonia.
Two other employees – the service director, Lau Richter, and the Australian restaurant manager, James Spreadbury – have also been made partners.