News
Demolished Ungdomshuset to host new container village for homeless at Jagtvej 69
---
This article is more than 6 years old.
Activists from Ungdomshuset oppose the idea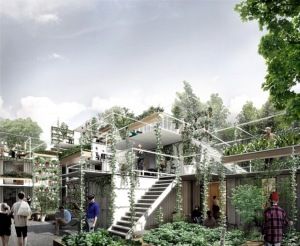 Ten years after the demolition of the Ungdomshuset youth house at Jagtvej 69 in Nørrebro, which led to some of the worst riots in recent Danish history, the empty plot covered in graffiti may be developed into a container village for the homeless.
The private group Vendepunktet ('the turning point'), which aims to help homeless people in the Danish capital, last weekend announced plans to build a cider house on the plot, where young homeless people, in particular, could get a fresh start in life.
The project will be run in collaboration with the current owner of the land, Udviklingsselskabet af 2010, which has agreed to rent the land to Vendepunktet for a period of three to five years.
Plans for the container village have been designed by WE Architects and architect Erik Juul.
They consist of 19 containers with 16 permanent and eight emergency housing units as well as workshops, study rooms, kitchens and group rooms for discussions.
READ MORE: Protests threatened over Jagtvej 69 redevelopment
Over our dead bodies
Activists from Ungdomshuset, who now reside at Dortheavej 61 in Copenhagen Nordvest, oppose the idea because they fear the project will help the landowner to use the plot for commercial objectives once the new Metro station at Nørrebro Runddel is finished.
"The fight continues. Nothing is forgotten, nothing is forgiven," wrote the activists in a statement.
"We do not share the rosy-eyed view of the project, but believe it will be used as a precursor for commercial building at Jagtvej 69."
However, Bjarne Ove Nielsen, the co-founder of Vendepunktet, believes that funds for the construction of the cider house and container city will soon be raised and that work will begin after the summer.