Things to do
Performance review: We say "oui" to this fun, farcical, raunchy romp
---
This article is more than 6 years old.
'Boeing Boeing' is lots of fun ★★★★★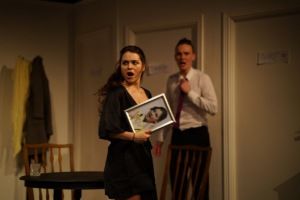 For CBS Theatre's premier production, the new troupe has skillfully executed some sky-high entertainment by choosing farcical sex comedy 'Boeing Boeing', which is set in France in the 1960s and directed by Marley Hasselbach.
De three Gs
Some people say three is a magic number. This certainly seems to be the case for Bernard (Victor Sebastian Dilling), a slickly arrogant Casanovan businessman living in Paris who has masterfully balanced the art of having three fiancées simultaneously. The key? They're all air hostesses from three different airlines with separate timetables, which Bernard expertly utilises for his own polygamic pleasure.
He's balancing the three Gs, as different as they are feisty: Gabrielle (Sarah Badoux), a dark alluring French beauty with a temper; Gretchen (Julia Mangan), a giggling girly German fräu with a flair for dramatic outbursts of passion; and Gloria (Kristine Helms), a blonde attention-loving Marilyn Monroe-esque American with some … strange tastes.
But on one stormy night, turbulence inevitably arrives to shake-up Bernard's comfortable lothario lifestyle in the form of an unexpected visit from old friend Robert (adorably played by Jakob Storjohann).
With his newsboy cap and voice of moral reason, he's an innocent provential country boy who proves flabbergasted by Bernard's questionable ethics, arms flailing as he exuberantly exclaims: "It's an international harem!"
Cue mistaken kisses, heaps of innuendo and many girlish exclamations of "Mein gott!" (guess from who!). It's plenty fun to see Bernard's deterioration from suave bon-vivant to a sweating nervous wreck, strands loosening from his slicked-back hair as his carefully constructed walls crumble around him.
Big-occasion Bertha delivers
All characters were played up to the nines with highly-exaggerated gestures and impressively executed accents.
However, the true hero of the show is Bernard's maid Bertha, a hilariously deadpan Frenchwoman with clunky glasses and a feather duster (expertly played by Judith Neijzen), who is burdened with cooking, cleaning and maintaining order in Bernard's difficult three-women household.
Accompanied by rolled eyes, a shrug and many fourth-wall glances as if to say "Can you believe this?", her repeated monotone delivery of "This is no life for a maid" provides a welcome comical juxtaposition to the frantic sexual energy of the other characters.
The packed-in audience, sipping beer and laughing out loud, sure enjoyed the flight. This theatre troupe proves itself a farce to be reckoned with – keep an eye out for further productions!