News
Dire postal service situation: Thousands on the chopping block
---
This article is more than 6 years old.
Postnord wants to reduce mail delivery to once per week in wake of billion kroner loss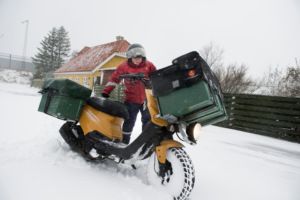 The national postal service Postnord has announced it intends to let go of upwards of 4,000 employees – roughly 40 percent of its entire staff in Denmark – in a bid to streamline its flailing economy following revelations that the Danish part of Postnord ran up a loss of 1.5 billion kroner in 2016.
Furthermore the service wants to deliver mail just one day a week in the future and wants politicians in Denmark and Sweden, the other co-owner of Postnord, to cough up 2.3 billion kroner to help bail them out and make the transition.
"It's a hard punch. We know the company is struggling financially and something needs to happen, but it hurts to have to say goodbye to so many colleagues," Torben Struck, a spokesperson for postal workers in Region South Denmark, told DR Nyheder.
"We may be able to make do with fewer employees, but we are already really busy and I have a difficult time ascertaining at this juncture whether it will be enough."
READ MORE: First class shake-up at PostNord to blame for third class results
Will Sweden play along?
Postnord expects that the transition will take four years to complete and that it will suffer a loss on letter distribution during that time.
Following the transition, packages and letters will be consolidated in two tracks: a basic track named 'blomst' ('flower'), which involves the postal workers only delivering mail once per week, and a second track called 'ekspres' ('express') that encompasses day-to-day delivery.
But it is unknown whether Sweden, which owns 60 percent of Postnord, wants to contribute to the straightening of the postal ship in Denmark.