News
Danish millions to help alleviate drought in east Africa
---
This article is more than 6 years old.
Development minister currently in Kenya getting overview of national disaster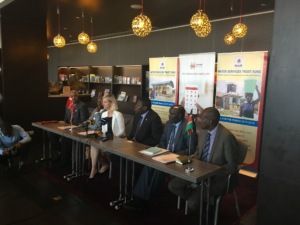 With millions of people being impacted by the serious drought that has taken hold in parts of east Africa, Denmark will chip in 10 million kroner to help alleviate the problem in Kenya.
The aid funds will be taken out of Denmark's long-term development co-operation in the water sector and instead be allocated to the emergency crisis.
"Less than a month ago, Kenya declared it was in a state of national disaster due to the drought," said the development minister, Ulla Tørnæs, who is in Kenya this week.
"Denmark is among the first nations to respond to the acute crisis by utilising its [local] presence in a water program in some of the worst-hit areas. It is an important signal to send to other donors, who will hopefully let themselves be inspired."
READ MORE: Denmark to help Kenya with waste management and environmental matters
Synergy critical
Denmark supports the Water Service Trust, the Kenyan state corporation mandated to finance water and sanitation services for the poor communities, with 65 million kroner – funds that are spent on the long-term development of Kenya's water sector.
The emergency efforts taking place this week consist of bringing water to the local population, as well as the mending of wells and drilling holes.
"More synergy existing between short-term humanitarian and long-term development efforts is a central point in our development strategy, and the flexible solution to this drought is a fine example of that," said Tørnæs.
"In recent days, I have witnessed a very tough situation here in Kenya and in neighbouring nations. I'm glad that Denmark can react swiftly, and I expect that we will contribute even more to the challenging humanitarian situation in Kenya and surrounding countries."