Things to do
Behind the craic: the fuel that drives the famous 3-legged race
---
This article is more than 6 years old.
CPH Post caught up with the co-founder and organiser of the 3-legged race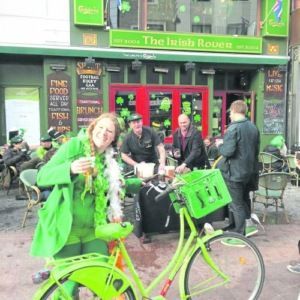 Nothing encapsulates the spirit of St Patrick's Day in Copenhagen better than the 3-Legged Race, an annual event since 2001.
Every year hundreds of intrepid duos, tied to one another at the ankle, follow a course around town with the aim of visiting half a dozen Irish-connected drinking establishments where they must drink half a pint of beer at every one.
Nothing can deter them – not even a blizzard!
The year of the 17s
This year, to mark the 17th race in 2017, the organisers have a range of extra prizes to give away to mark the special occasion.
CPH POST caught up with Siobhan Kelleher-Petersen, who together with her famous green boots has been at every single running since she co-founded the event all those years ago.
THE RACE
Could you tell us the history of the Three-Legged Race? what was the inspiration and whose idea was it?
I started the race back in 2001 with my friends Garrett McKeon and Desmond Carswell. At the time we were all bartending at the Dubliner, and one evening after work, about a week before St Patrick's Day, we were talking about what we could do to celebrate the day. We wanted to do something different and unique that would get people together. I had done a three-legged pub crawl back home in Ireland, and we thought it would be a great way to celebrate Paddy's Day with all our friends. So we gave it a go, and well, we weren't wrong.
How has it evolved since its first running? What do you remember about that day?
That first year was great. There were only 18 teams but everyone had such good craic, I knew we had to put it on again. Most of those racers have gone into retirement now, but all of them have remained involved in helping make the race what it is today: a real community event.
It quickly became extremely successful. Do you recall the moment when you thought: "Wow. Everyone really likes this."
2007 was a big turning point, when the race became a fundraising event. We had built up a following by then, and charity was always the next step. It made a fun day even more fun. And then there was our record year in 2012. It was the first time we had The Tent at Axeltorv, and we had over 600 racers and raised 60,000 kroner. The Tent was jam-packed with everyone singing and dancing. It was magical!
Does it get much attention overseas?
Yes – the race is very well publicised globally, especially in Ireland, and also the USA where St Patrick's Day is a huge celebration. We've had racers from all corners of the globe – some who come to Copenhagen just to celebrate the day with us. And of course we have lots of Danes who come back year after year. They can be very competitive racers, which probably explains why there is always a Danish team in the top three.
It's probably fair to say you've had some memorable experiences over the years. Could you pick some highlights.
There's been a few over the years …
I always smile when I think of St Patrick's Day 2008, when we woke to a snow blizzard. I thought it would be a disaster and no-one would turn up. But when I arrived down at Kennedy's for the registration I saw them coming – over 200 of them! It was so cold, but we had such a blast, and we raised 21,500 kroner for charity, so it was a really great day.
I remember back in the early days meeting a 60-year-old English couple in the Globe just a few hours before the race. They were in Copenhagen to celebrate their 30th wedding anniversary and I convinced them to come with me to Kennedy's for registration, and get tied up. They had such a laugh, and when they got back home they sent a postcard to say their grandchildren couldn't believe how cool they were.
A week before St Patrick's Day meeting a couple tied up outside the Irish Rover. They were training for the Race!
One year I got a taxi home and was chatting to the taxi driver when he tells me that earlier that day he'd given a lift to a couple who were tied together with gaffa tape!
What's the daftest thing you've been asked?
"Can we do the race on a skateboard?" I said why not, but it really didn't work out too well for them. They fell constantly and ended up carrying it across the finish line. A close second is "Can my partner be a blow-up doll?"
THE NUMBER 17
Why is the number 17 so special this year?
This year we'll be celebrating St Patrick's Day on 17 March 2017, and it just so happens to be the 17th race. So we're all about the 17s this year, and we'll be giving out some special '17' prizes to celebrate the day. I'm also very excited to have a long overdue reunion with [co-founders] Garrett and Desmond who are coming to Copenhagen for the race. We have not celebrated St Patrick's Day together since 2004, so it's going to be very special.
Is there anything else new to look out for this year?
This year we're very excited to have the Hard Rock Copenhagen join the route between the Shamrock Inn and Pub&Sport. Hard Rock has partnered up with many charity organisations and we're delighted to have them on board in 2017.
CHARITY
You've raised a lot of money for charities in Denmark and overseas. Can you give us a few examples?
The race became a fundraising event in 2007, and since then we have raised over 365,000 kroner. The money has been donated to various charities around the world, from the Neonatal Clinic and Children's Cancer Ward at Rigshospital, to the Irish Motor Neurone Disease Association.Since 2010 we have proudly supported CCAF [Cambodian Children's Advocacy Foundation] a preschool program in southern Cambodia where I spent some time during my travels. The program is run by dedicated, hardworking people, and it makes me very proud to be able to help them with their work.
Who are your preferred charities this year?
Since 2015 we have been fundraising for the same three charities (one for each leg!): Danske Hospitalsklovne here in Denmark, Laura Lynn Children's Hospice in Ireland, and the CCAF.
Beyond the organisers, whose help do you rely on to arrange the event?
From all the wonderful volunteers to the bars on route who have been so supportive over the years. We are very lucky to be sponsored by Diageo. They have allowed us to give 100 percent of all donations uncut to the charities.
It must be gratifying to think you can have so much fun and make such a big difference?
I think that's why people keep coming back year after year. Whether it's the racers, the volunteers, or those who turn up for the craic at the Tent and to cheer the racers on … there's always a feel-good factor about the race. What's there not to love about it? It's wacky with a good cause: the perfect combination.
PERSONAL

When you're not organising three-legged races, what do you do?
By day I work as a Project Manager, which is a skill that definitely helps me with organising the race. Life has changed a lot for me in the past two years since I had my daughter, Maebh – she definitely keeps me busy. Last summer I got married to Martin, who ties legs at the race. We spend most weekends on the Danish green island of Bornholm where we have a small farm.
What first brought you over to Copenhagen, and why have you continued to live here?
Like most women who come to Denmark, it was for a man, but in my case it was to see my brother. I love the city and the sense of freedom I feel here. And mostly I love Copenhagen for being a city where you can run around tied to another person, dressed like a leprechaun, and drinking beer. It definitely is Wonderful
Copenhagen.
You're quite well known for your acting. Any possibility we might see you on stage in the city again?
Ah it's been a while now and it's something that I miss, but there are plans in the pipeline. Back in 2009, to raise some more money for the charity, we put on a 20-minute play about an after-hours drinking session in a Dublin pub: 'Thirst' by Myles na gCopaleen. My brother and I played roles in it, and we put it on in all the bars on route. It's a brilliant play and we plan to put it on again next year.
Many of our readers will know John Kelleher, your brother, who is the quizmaster at The Globe and a familiar face in TV, sport and theatre circles. How important a role has he played in the organising of the race?
John was one of the first racers, and he won a couple of times back in the early days. Today he helps organise the race and is always ready to welcome the crowd at the registration at Kennedys. He's a great man with a megaphone!
You've worked together on various theatre productions as well as the race. How would you describe your sibling relationship?
We come from a scattered but very close family. John and I are here in Copenhagen and our brother Tommy lives in Barcelona. We also have two sisters back home in Ireland. Our younger sister Gráinne has been coming over to help with the race for many years now. She used to work as a Garda (police) in Ireland so she's very handy with crowd control.
And where can we get a pair of your famous green boots?
You mean the furry ones? I have a few pairs of green boots. My wardrobe is full of green clothes, so it's difficult to narrow down. It's just not a good day if I'm not wearing green.