News
Israeli startup deal proves Denmark is on the right track with self-driving cars
---
This article is more than 6 years old.
But how well placed is the Scandinavian sector to capitalise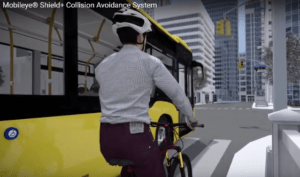 A lot has been touted in the media recently about Scandinavia being Europe's answer to Silicon Valley. And there's no doubt the region's tech sector is growing rapidly.
But time and time again, its sector is being left in the shade by a country whose ingenuity is seriously giving the Californians a run for their money, and also a cause to spend it.
The Israel Valley
Yet another significant deal was concluded in Israel this week in which a US tech company has paid billions of dollars for an Israeli startup that develops vision technology for Advanced Driver Assistance Systems (ADAS) and autonomous driving.
In this case, Intel has purchased Mobileye for 15 billion US dollars, and it would appear to indicate that Denmark is on the right track following the one laid out by Transport Minister Ole Birk Olesen's January law proposal regarding self-driving car technology.
Of interest to Copenhagen
The deal, which was the biggest in Israel's high tech industry history, will enable Intel to utilise technology that promises to one day eradicate as many as 93 percent of all traffic accidents.
"It's a great deal: a representation of what Israeli companies are, and one that shows the growth of the Israeli tech sector," said Avi Hasson, the chief scientist at the Israeli Ministry of Economy, this week.
Mobileye's tech will especially interest Denmark as one of its Mobileye Shield+ tools provides accuracy in blind spots, which is ideal for large vehicles operating in urban environments with cyclists like Copenhagen (see video below).
Will take a team effort
"We can't ignore the gradual development taking place in self-driving car technology: from the ABS brake, which allows inexperienced drivers to perform close to a perfect car brake in a critical situation, to intelligent headlights, pedestrian protection and automated parking," said Olesen just two months ago, and it would appear that the development has moved from 'gradual' to rapid.
"Autonomous cars are not a dream anymore. It's not a matter of 'if'. It's matter of 'when'," Mobileye's co-founder, president and chief executive Ziv Aviram told the Jerusalem Post.
While the global director of sales, Lior Sethon, underlined to media this week that the various tech hotspots around the world – Silicon Valley, Israel, maybe even Scandinavia – will need to work together to make it happen.
"It will take an industry effort," he said.
From sci-fi to reality
Mobileye was co-founded in 1999 by Aviram and Professor Amnon Shashua from the Hebrew University of Jerusalem.
It failed to make any profits until 2007, at which point autonomous cars were still considered in the realm of science fiction. But today, Israel is rapidly making it tomorrow's reality.