News
Copenhagen square named after Tivoli founder
---
This article is more than 6 years old.
Georg Carstensen connection to Frederiksberg to be immortalised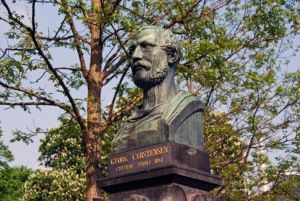 Georg Carstensen, the founder of Copenhagen's famous amusement park and top tourist attraction Tivoli Gardens, will have a square in Frederiksberg named after him.
The square, which will be officially revealed in May, will be located near Alhambravej just west of Frederiksberg City Hall Square
Tivoli, one of the world's oldest amusement parks, was opened by Carstensen back in 1843 and was an immediate success.
Carstensen had been inspired by parks he had visited abroad, and in 1841, King Christian VIII gave him permission to build Tivoli in an area situated outside the city ramparts.
READ MORE: Michelin-starred restaurant to open in Tivoli
A ticket to ride
Lars Leibst, the CEO of Tivoli, said that Carstensen's connection to Frederiksberg was among the key reasons for the decision to have the square bear his name.
But Carstensen's place in Danish lore is not only limited to Tivoli's establishment.
In 1856 he sought permission to have one of Copenhagen's first tram lines built between Frederiksberg Circus (Frederiksberg Runddel) and Tivoli. He died before his dream could be realised, but others stepped in to continue his work.