News
Denmark enters into strategic partnership with Mexico
---
This article is more than 6 years old.
Co-op aims to cement dealings such as climate, energy, health, maritime, agriculture, food and business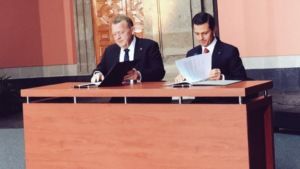 In connection with Danish PM Lars Løkke Rasmussen's current visit to Mexico, as part of the first official state visit to the country since 2003, Denmark has agreed a new strategic partnership with the Mexican government.
The move is part of the Danish government's goal to establish new partnerships with the world's most important growth economies.
"We are already co-operating with Mexico in a number of areas, but now it will be formalised, and developing the partnership in depth will be strategically prioritised," said Rasmussen.
"The partnership with be an important platform for Danish business eyeing the Mexican market and for a closer co-operation between our governments. Mexico is an important partner in terms of free trade, the UN, health and climate, and it is in many arenas a perfect match for Danish positions of strength."
READ MORE: Another Mexican standoff for Amdi Petersen?
Penning with Peña  
The partnership aims to solidify the political and economical co-operation within a broad scope of areas such as climate, energy, health, maritime, agriculture, food products, business and human rights.
Rasmussen has also discussed a number of other issues with Mexican President Enrique Peña Nieto, including the possible extradition of the Tvind concern boss Mogens Amdi Petersen.
Trade between Denmark and Mexico has tripled since 2005, and looking ahead to 2020 it is hoped the deal will increase Danish exports of goods and services from 5.7 to 7 billion kroner a year. As it stands, Denmark's primary exports to Mexico are maritime transport, industrial machinery, medicine and engines.