News
It's blooming marvellous! Copenhagen goes full on for flower power
---
This article is more than 6 years old.
As part of the 'greening' of Copenhagen, the municipality has planted even more flowers than usual this year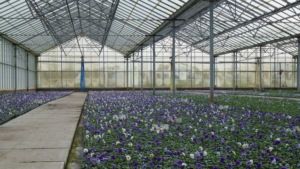 As the impressionist painter Claude Monet said: "I must have flowers, always and always."
Copenhagen Municipality seems to be taking Claude at his word, as at the moment they are preparing to plant thousands of spring flowers in the city's parks and streets.
READ ALSO: EU to support Danish flowers
The children of Copenhagen will soon be able to enjoy the sight of around 2,000 violets, which are destined for the manned playgrounds round town. Not only can they enjoy them, they will also be able to help the gardeners put them in.
The gardens surrounding Glyptoteket will also be a riot of colour. Some 3,000 wallflowers and buttercups will be planted in yellow, orange and purple which, combined with the 4,000 bulbs put in during the autumn, ought to make a pretty big splash.
Copenhageners can also look forward to coming across around 100 large flower boxes, which will be primarily planted with violets and pansies.
Getting out in the spring weather
"It's a very special time when people begin to emerge from their flats and the spring flowers appear in town," enthused Morten Kabell, the deputy mayor for technical and environmental affairs.
"We know that 70 percent of Copenhageners want the town to be even greener, so this spring, we've made sure that flowers will be growing in even more places than usual."
A number of the bulbs comprise a special Copenhagen-assortment created specially for the municipality. The assortment consists of a number of narcissi that flower at different times so, depending on the weather conditions, Copenhageners can enjoy flowers in shades of white and yellow right up to May.
At the end of April, new flower boxes will be installed on Højbro Plads and by Nørreport Station.