News
Danish students help African village farmers to store their crops
---
This article is more than 6 years old.
A project by two DTU students could provide sorely-needed cooling facilities to a village in Sierra Leone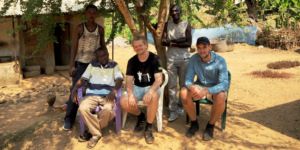 Two Danish students are working on a project to build a solar-powered cold store so that poor farmers in a village in Sierre Leone can keep their produce fresh.
READ ALSO: Denmark pledges aid as hunger grips east Africa
Two years ago, friends Christopher Vedelsby and Rune Holse, who both attend Denmarks Technical University (DTU), agreed that they would like to do a joint final diploma project in export and technology management.
A bright idea that can really make a difference
They both wanted to travel and therefore allied themselves with the humanitarian organisation Engineers Without Borders on the project. As it is now, more than half of the village's harvest rots before it is sold, so their idea fell on fertile ground.
However, there were a number of hurdles along the way that had to be overcome. "Just arranging a meeting in Sierra Leone can be a challenge. There is only power some of the day, so you can't just send an email. There is also the cultural aspect – you have to look people in the eye," said Holse.
Local guides managed to set up meetings for the students with the farmers, mayor, local chief and even the minister of agriculture. The Danes became minor celebrities in Kenema, where they spent most of their time, and were especially popular amongst the village children – many of whom had hardly ever seen a white person before.
Volunteers wanted
Now back in Denmark, they are both working hard. The next phase of the project will be raising the money to build the solar-powered cold store and having it put up in the village in Sierra Leone.
To help with this, Engineers Without Borders are looking for volunteer engineering students who are willing to lend a hand.
If everything goes well, the first cold store should be ready at the end of the year, so the poor farmers will no longer have to throw away half their harvest.