News
Danish chickens allowed outdoors after 5 months under quarantine
---
This article is more than 6 years old.
Risk of bird flu has decreased and Danish eggs remain salmonella-free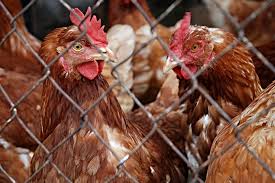 After five months under quarantine, Danish chickens are finally allowed to get out the doors, reports the Danish Veterinary and Food Administration (DVFA).
Since November 2016, poultry farms in Denmark had to keep the domestic birds locked indoors as a preventive measure to stop the spread of the avian flu H5N8.
"There will always be a risk of bird flu, but it is now lower than before," stated Per Henriksen, the veterinary director at DVFA.
"Moreover, many chickens have been kept indoors for a long time, often in conditions that are not suitable for them when the weather gets warmer."
READ MORE: Danish poultry back in shops in South Korea
Denmark less affected than rest of Europe
Henriksen said the difficult decision to put the chickens under quarantine for so long has worked as Denmark has been much less affected by bird flu than other European countries.
Over 8 million birds have had to be killed in Europe, according to Henriksen, while Denmark only had two outbreaks in small flocks and 81 wild birds have been found dead due to the disease since the preventative measure came to force.
Although the first outbreak of bird flu in Denmark meant that all exports of poultry were stopped, on February 22, the country was once again declared a bird flu-free zone and exports to a number of countries, including South Korea, have since resumed.
READ MORE: Danish salmonella infections hailing from abroad
Salmonella-free Easter eggs
With the Easter break starting tomorrow and the tradition to blow and decorate eggs and eat them afterwards, it is also good to know that Danish eggs are salmonella-free.
Last year, no-one was diagnosed with salmonella poisoning after eating eggs in Denmark, according to figures from Statens Serum Institut.
Most Danes, who were diagnosed with the disease in the past, got infected after eating pork or brought the infection home from holiday in countries such as Turkey, Thailand and Spain.
Although the DVFA has not issued any warning against the use of fresh, raw eggs in homemade ice-cream and cakes since 2013, children and older people are still advised to consume pasteurised eggs.