General
No misnomers, this Noma for pizzas is simply the best
---
This article is more than 6 years old.
You owe it to yourself to see what all the fuss is about at Bæst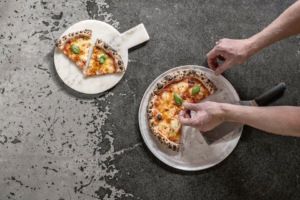 In my quest to find the best pizza in Denmark, I may have stumbled onto something even greater and more satisfying: the best pizza in the world.
It's clear that world-renowned chef Christian Puglis of Nørrebro restaurant Relæ and his partner Kim Rossen opened the restaurant and pizzeria Bæst in order to use Michelin star precision and cooking in order to give the world a perfected take on traditional pizza.
Voted the ninth best pizza in the world by the Guardian earlier this year, Bæst, situated in the heart of Nørrebro and next to Empire Bio, certainly lives up to all the hype.
Best of Denmark
Bæst prides itself on using mostly local and organic ingredients, which is clear from the appetisers down to the beer that comes solely from local breweries.
Serving up charcuterie from the best selection of pigs in Denmark is written into their manifesto. At a reasonable price, the chefs at Bæst are no stranger to utilising everything Danish farmers have to offer.
The menu has an array of items to choose from that are not limited to just pizza and even offers a plate from which you can sample the whole kitchen, if you're beast enough.
Sharing as a mantra
Before ordering we were told by our waiter in a friendly, humble way that at Bæst the menu is designed with the concept of sharing in mind.
Whether this was a ploy to gently remind us to put away our mobile phones, allowing ourselves to be taken over by an atmosphere in which melodic tunes lightly hummed in the background and Danish-designed lighting set the mood, or to indulge ourselves by buying several items off the menu in order to fulfill this notion, making our bill climb higher – whatever it was, it didn't matter, we were sold.
As we were walking to our seats, the kitchen visible from every angle of the dining area, we glanced at the other patrons' dishes, eager to see what looked the best. Once we sat down, my friend and I both declared that we had to have the salad. Which seems rare for a salad, but Bæst's 'Bitter Green Salad' appeared unique.
We of course shared it. The salad was composed of organic greens from farms in Denmark that were covered in a satisfyingly large amount of parmesan, salted egg yolk and garum. The greens were as described – bitter, but in a tasty way. We finished it in its entirety and were even more excited about our pizzas.
The perfect pizza
After mulling over the pizza menu, trying to ensure we made the best decision, we settled on a ham pizza with sun-dried tomatoes and Bæst mozzarella, and a second pizza with tomatoes, 'Bæst 'nduja' – smoked Bæst mozzarella, red onions and oregano.
We scarfed down the pizzas gleefully, trying to describe each bite and each ingredient, which was not an easy task. The pizza dough was perfectly contrasting, made up of a soft inside with a crunchy, chargrilled crust. The homemade Bæst mozzarella, which is made on site and hand-stretched in the restaurant several times a day, is something I have thought about days after my meal. The tomatoes, basil, and oregano were fresh and tasted like they were delivered right from the farm that hour.
After each bite, it was clear that Bæst had perfected the art of Italian pizza making. Once I left, the only thing I was disappointed by was that I was too full to try eight of the other pizzas on the menu and the tiramisu.