News
Danish and Swedish politicians engage in 'blame game' on Malmö crime
---
This article is more than 6 years old.
Danish and Swedish politicians disagree on who is to blame for criminality in Malmö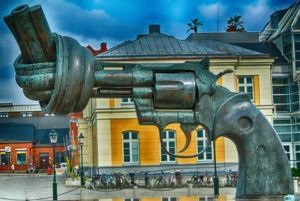 A number of Danish politicians, including the justice minister, Søren Pape Poulsen, have been commenting on escalating criminal activities in Malmö.
Poulsen has gone as far as blaming the crimewave on the lax immigration policies in force in the neighbouring country.
"One has to be careful when commenting on another country's actions over a number of years, but the approach we've taken in Denmark, with a strict immigration policy and the will to make demands, has made a difference."
READ ALSO: Malmö gang violence could spill into Copenhagen
Poulsen's remarks were made at a hearing called by Socialdemokratiet's legal affairs spokesperson, Trine Bramsen, to discuss the situation in Malmö, DR Nyheder reports.
"We've seen German gangs moving towards Denmark. In principle, the same thing could happen with Swedish gangs," Bramsen said.
A great difference between the two countries
Poulsen responded that successive governments have done a lot to combat this kind of problem in Denmark, so there is a great difference between Denmark and Sweden when it comes to ghettos and the problems associated with them.
"The Danish police are very aware of the problem, but don't see a connection between the crimewave in Malmö and crime in Copenhagen and north Zealand," he said.
Dansk Folkeparti's spokesman, Peter Kofod Poulsen, believes that successive Swedish governments bear a large responsibility for the problem.
"It's incredible that a well-functioning country such as Sweden has degenerated into what we are now witnessing," he said.
"There has been an explosion in criminality and one can no longer deny that it is connected with Sweden's foreign policy."
Pot calling the kettle black?
However, Malmö's mayor, Katrin Stjernfeldt Jammeh, is shocked by the Danish attitude. She feels that Denmark is the problem.
"My coffee nearly went down the wrong way when I heard the radio news this morning. The Danish government has to explain to Parliament how it will prevent Swedish criminality 'moving in' to Denmark. This is despite the fact that the Danish police don't see any danger in this happening," she wrote on Facebook.
The mayor feels that it is, in fact, Denmark who is exporting the problem to Sweden.
"We know that weapon-smuggling, illegal drugs and spirits [liquor] and other crime is extensive via Denmark to Scandia and on to the rest of Sweden," she said.
"We also know that a number of organised crime gangs, biker gangs and other gang-related criminals have come to Sweden via Denmark."