News
New Danish political party wants to return to the roots of democracy via mobile app
---
This article is more than 6 years old.
Is it possible to eliminate spin and bring democracy back into the hands – literally – of the voters? Initiativet thinks it is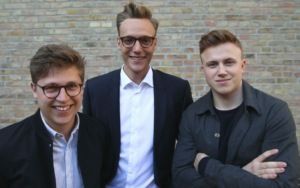 Initiativet, a new political party, wants to use modern smartphone technology to put voters back in the driving seat when it comes to lawmaking.
Initiativet intends to use its mandate according to how voters have indicated their preference via their platform. This will involve a mobile app that allows voting on individual law proposals as well as taking part in the general political debate.
READ ALSO: New party blasts election process
Mikkel Møller Andersen, Holger Thorup and Sebastian Winther are the trio behind Initiativet.
"We don't think the general public are taken seriously enough in Danish politics. Politics is mostly about spin, scandals and cake, rather than serious political content," explained Thorup.
It is already possible to get an idea of how the platform will function in practice on the party's website (initiativet.net ). Everyone has the possibility of casting an anonymous vote using their NemID digital signature – even if you didn't vote for Initiativet at an election.
"It is vitally important that everyone can see that the policies emanating from Parliament chime with opinions that exist in the voting base you have a mandate from. Our party can therefore become an asset to all parties, who will then be able to see which issues people are really concerned about," contended Andersen.
"We are bringing people's votes all the way into Parliament by letting everyone vote on all bills – and not just when there is a general election every four years," added Thorup.