News
Social media prediction: Denmark won't win Eurovision
---
This article is more than 6 years old.
Going by popularity on Facebook, Twitter and Instagram, Anja Nissen won't make the top 10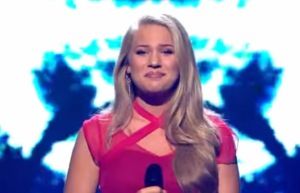 When Anja Nissen hits the stage with the song 'Where I Am' at the 2017 Eurovision Song Contest next week in Kiev, Denmark will be holding its breath for a strong showing.
But according to the German-based online savings platforms, CupoNation, Denmark can forget about winning the competition. In fact, Denmark can look forward to an 11th place finish – a prediction based on its social media popularity.
Nissen has a total of 67,802 followers on the three social media platforms Facebook, Twitter and Instagram, a far shout from Francesco Gabbani, the predicted winner from Italy, who has close to 640,000 followers (twice as many as the Dutch group O'G3NE in second place).
Based on social media popularity, the prediction compares quite closely to what the bookmakers have on offer – or at least in terms of Italy winning and Denmark (33/1 on most betting sites) almost cracking the top 10.
CupoNation's social media prediction (here in Danish) has Italy winning in front of the Netherlands, Greece, UK and Australia, while the betting companies have Italy favoured to win in front of Bulgaria, Portugal, Sweden and Armenia. They rate Denmark 12th.
For many years now, bookmakers have used Google Analytics to ascertain which songs generate the most interest and are therefore the favourites to win. However, last year's decision to split the voting between the public and juries now makes it harder to predict the winner based on internet popularity. Ukraine was the first non-favourite (according to the bookies ahead of the voting) to win in over a decade.
READ MORE: Aussie-Dane wins Denmark's Eurovision contest
DK going Eurosonic
In related news, the Danish music industry will be handed a significant boost following the revelation that Europe's biggest industry festival, Eurosonic, will focus on Danish music during next year's edition.
Some 4,200 record companies, agents, publishers and managers will assemble in the Netherlands for Eurosonic next year at an event that other Danish musicians – such as Mø, Lukas Graham and Alex Vargas – have benefited from in previous years.
More specifically, the focus on Denmark means that 20 Danish acts will play on the festival's many stages. The names of the music acts to play at Eurosonic have yet to be decided.