News
Sports News in Brief: New Firm teams to meet in Danish Cup final
---
This article is more than 6 years old.
Elsewhere, the IIHF World Championships gets under way, four Danes make the Golden Boy shortlist and the Danish men start their Euro handball qualifiers with a last-second draw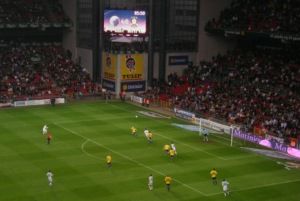 Football fans across Denmark must be salivating at the mouth following Brøndby's 2-1 win over FC Midtjylland in last night's Danish Cup semi-final.
The result means that for the first time since 1998 the Cup Final day will be a New Firm battle, pitting bitter rivals FC Copenhagen and Brøndby against one another.
FCK are looking to make it three in a row following cup wins last year and in 2015, while Brøndby are hoping for their first cup title since 2008.
The Lions look to be favourites, as they have dominated the Superliga this season and only need a point tonight away at FC Nordsjælland to become champions, but Brøndby have history on their side.
In 1998, the only time the two teams met in a final, the Boys from the Western Suburbs romped to a 4-1 triumph with John 'Faxe' Jensen pulling the strings in midfield.
The final will be played on May 25 at 17:00 at the Telia Parken Stadium and tickets go on sale on Wednesday next week at the earliest.
READ MORE: Wilson Kipketer could lose world records to contentious EAA proposal
Puck drops in Berlin
Denmark's ice hockey team is looking to keep their rich run of form at the IIHF World Championships intact as the puck drops on the 2017 tournament in Berlin tonight.
The Danes will start off proceedings tomorrow at 12:15 against Latvia before facing a stiffer challenge in the US on Sunday at 16:15. Other group games include match-ups against Slovakia, Russia, Germany, Sweden and Italy.
Despite most of their NHL players missing from the line-up, the Danes won't need to worry about being relegated as Denmark will host the competition next year in Herning and Copenhagen.
READ MORE: Historic moment for Danish US football as Thor signs for Falcons
Golden boys
Three Danes have been shortlisted for the 2017 European Golden Boy, an award given to the biggest young football talent in Europe, which was established by the Italian sports site Tuttosport back in 2003.
Kasper Dolberg (Ajax Amsterdam), Mikkel Duelund (FC Midtjylland) and Jens Odgaard (Lyngby) made the prestigious list, while Danish-born Emre Mor (Borussia Dortmund) – who chose to represent the Turkish national team last year – was also picked.
Previous winners of the Golden Boy award include the likes of Paul Pogba, Wayne Rooney and Lionel Messi, while Renato Sanchez won it last year.
READ MORE: Epic sports draw: Penis versus Rectum
Ready, set, draw!
Denmark opened up its qualification for the Men's European Handball Championship by salvaging a last minute 25-25 draw away against Hungary in Budapest last night.
The Danes trailed for most of the match, but Anders Eggert scored a penalty throw as time expired to get a draw in what was Nikolaj Jacobsen's first official outing as coach.
The two teams will clash again on Sunday, while the Netherlands and Latvia also await in the qualification round. The top two teams in the group qualify for the Euros next year in Croatia.