News
Well-known Danish theatre director stepping down
---
This article is more than 6 years old.
Vibeke Windeløv says she needs "more in her life than work"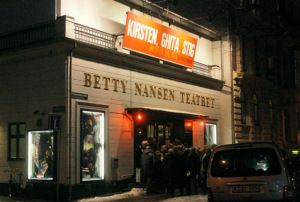 Longtime Danish theatre and film maven Vibeke Windeløv will step down next summer after four years as director of the Betty Nansen theater in Frederiksberg.
Windeløv had worked in the film industry for 40 years before taking over as director of the Frederiksberg theatre three years ago.
Needs more from life
The 67-year-old Windeløv had agreed to a five year stint, but said that she will call it quits in June, 2018, one year before her contract expires.
"Theatre work runs from early morning until late night,' said Windeløv.  "I'm 67 years old and want a life that's not just about work."
Windeløv said that praise for the season just past makes her feel like she is going out on a high note.
Sad to see her go
Betty Nansen theatre chairperson Erik Jacobsen said that he was sorry to see Windeløv go.
"The board understands Windeløv's decision, although we would have liked to see her continue her work," said Jacobsen.