News
Dozens arrested in aftermath of Ungdomshuset demo
---
This article is more than 6 years old.
Copenhagen Police arrest 25 for roles in turning peaceful march into mayhem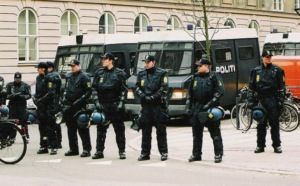 The Copenhagen Police has today arrested 25 people for their roles in the violent demonstration that took place in Nørrebro on March 1 in connection with the tenth anniversary of the closing of Ungdomshuset.
The arrests were made this morning via a police action against the collective Bumzen in Nørrebro and raids on ten other addresses in Copenhagen. Eight of the arrested are expected to face preliminary hearings.
The 25 people arrested today, all aged 15-25, are charged with violent behaviour towards a police officer, grievous violence, disturbance of the peace and vandalism.
"We won't accept our people being threatened and having cobble stones thrown at them," said Mikael Wern, an inspector with the Copenhagen Police.
"We won't accept vandalism and violence directed at the police. We are here to keep the peace for Danes, so when public order is disturbed, we take it very seriously."
READ MORE: At least five arrested as Ungdomshuset demo turns ugly
Out of order
The demonstration on March 1 began peacefully, but later escalated when masked youngsters began throwing stones at shops and banks.
That prompted the police to dissolve the demonstration, but several people were arrested after refusing to vacate the area.
The demonstration ended at the new Ungdomshuset on Dortheavej, where a group barricaded themselves inside and bombarded the police with missiles.