News
Chinese consumers can't get enough Danish food
---
This article is more than 6 years old.
One aspect of the emergence of an increasingly affluent middle class in China has been a demand for foodstuffs from Denmark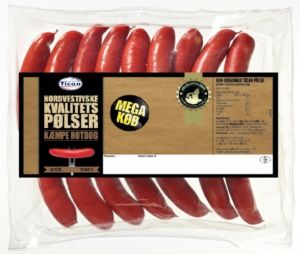 Last year, the monetary value of sales of Danish foodstuffs to China and Hong Kong reached almost 13 billion kroner.
And now the recently-signed agreement between the Danish and Chinese governments allowing the export of processed pork, such as sausages and ham, should lift these numbers even more.
Michael Stahlschmidt, the chief trade policy and market access consultant at the Danish agriculture and food council, Landbrug & Fødevarer, thinks there are a number of reasons for the increasing sales figures.
READ ALSO: PM in first official visit to China in years
"Firstly, there is a growing group of well-off Chinese who can afford both quality food and trips abroad where they become inspired by food from other parts of the world. Secondly, Denmark and Danish foods are a strong brand in China," he said.
"A conservative estimate is that we could export another 250 million kroner's worth of foodstuffs per annum as a result of the new agreement alone."
Food safety paramount
Denmark is one of the first countries in the world to make such an agreement with China. The high degree of food safety here has been a contributing factor. The Chinese are very aware of the food scandals that have occurred in other countries.
Under the auspices of the council, seven Danish food companies are currently taking part in a trade fair in Shanghai from May 17-19.
"The fair is an ideal platform for Danish companies in China," enthused Stahlschmidt.
"China is an enormous country, with around 1.4 billion people. If every Chinese person eats only 4 grams more Danish pork per day, that would mean a doubling of our exports of pork."