News
Danish festivals on their toes following Manchester attack
---
This article is more than 6 years old.
Distortion, Northside and Smukfest are on high alert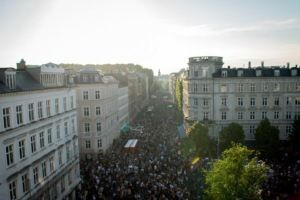 A number of Danish festivals are on high security alert following the terror attack that killed 22 people and injured 59 others in Manchester during a concert last night.
Popular festivals, such as Distortion, Northside and Smukfest, all have heightened security concerns following the attack and previous attacks in France and Sweden.
"We will be more on our toes during the event, but for months we have planned a security protocol that includes concrete barricades and a security corps. There will be a massive police presence," Thomas Fleurquin, the head of Distortion – set to kick off at the end of May – told DR Nyheder.
"For the first time, we have worked under the assumption there could be a real threat."
READ MORE: Manchester concert bombing – Danish PM deplores attack
PET monitoring
The national intelligence agency PET indicated it was keeping an eye on the Manchester attack but that the overall terror threat evaluation in Denmark remains unchanged.
"PET is closely monitoring the situation and is in close contact with the British authorities, which have launched a significant investigation into the occurrence in Manchester," PET wrote this morning.