News
Norway's green party wants hyperloop between Oslo and Copenhagen
---
This article is more than 6 years old.
Novel high-speed transport system proposed by Norwegian green party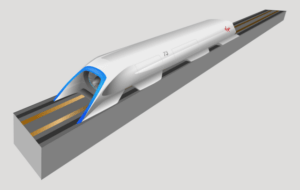 One of the most popular proposals at the annual conference of Norway's environmentalist party 'De Grønne' could revolutionise transport between Norway and Denmark.
If it gets enough support, a hyperloop – a mode of passenger and freight transportation that propels a pod-like vehicle through a reduced-pressure tube at speeds exceeding those attained by an airliner – could become a reality.
A new transport artery
A Green Party candidate who is a researcher into green innovation, Per Espen Stoknes, is behind this novel solution, Dagbladet reports.
The cost of the project is estimated to be around 150 Norwegian billion kroner. "It will generate a lot of value. If nothing else, it would create a transport network between big cities," Stoknes said.
To get things off the ground, the party needs support from the other parties in the Norwegian parliament as well as Denmark.