News
Scientology moves into new location in the centre of Copenhagen
---
This article is more than 6 years old.
New headquarters located at Nytorv near Strøget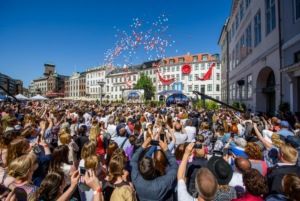 Although not recognised as a religion in Denmark, the Church of Scientology has moved into a new 'church' in the heart of Copenhagen.
The 4,000 sqm building is  located on Nytorv, just opposite Copenhagen City Court and near Strøget.
The church reports that 2,500 people met over the weekend to open what international church leader David Miscavige called "the world's most ideally-placed Church of Scientology".
The religion has owned the building for a long time. The newly-renovated location will be used as a sanctuary, classrooms, seminar rooms and other activities.
Not Danish approved
Danish leaders have repeatedly refused to approve Scientology as a religious community in Denmark.
Scientology has recently been the target of criticism several times, including in the US documentary 'Going Clear: Scientology and the Prison of Belief', in which eight former members tell stories about their lives as members of the sect and the pressure they endured when they tried to leave the movement.
Numerical discrepancy
Scientology was founded in the 1950s by American science fiction author L Ron Hubbard.
There are estimated to be between 100,000 and 200,000 active members of the church worldwide, although the religion claims it has 8 million members.