News
Mayor pleads for government assistance with Roma problem in Copenhagen
---
This article is more than 6 years old.
An increasing number of Roma are sleeping rough in the the capital, causing unease amongst local residents as well as an unsightly mess in parks and recreational spaces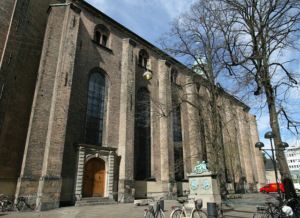 EU regulations on free mobility have allowed a number of subsistence-less persons to come to Denmark, many of whom try to eke out a living by collecting cans and bottles to redeem the deposit on them.
A lot of these people sleep rough in parks or streets, some in make-shift camps, such as those on Amager Fælled which Politiken reported being cleared in 2010.
At that time, eleven persons were detained by police and banned from re-entering Denmark for two years.
READ ALSO: Vast majority of homeless sleeping on Copenhagen's streets are foreign
Copenhagen's mayor, Frank Jensen, would like to see government assistance because he feels that the problem has now grown too big for the municipality to handle alone.
"We urge the government in the strongest possible terms to work to tighten up the rules for legal residence in Denmark," Metroexpress reports Jensen as saying.
"We would suggest, for example, that there ought to be a condition that anyone who is resident in Denmark should give an address – in other words, proof that they have a roof over their head," Jensen added.
Taken up Europe-wide
The mayor would like to see the issue discussed at EU level.
"The intention behind free mobility of labour was not that you should be able to scratch out a miserable existence on the streets by collecting bottles and cans. An amendment ought to be made to the directive so that one could say that when you come into the country, you need an address."
He emphasised that the municipality is already doing a lot.
"In Copenhagen Municipality, we're doing all we can within the existing framework. We've even created our own transit program where we spend 2.7 million kroner a year on trying to repatriate some of these migrants."
A growing problem
However, the problem is growing. In 2016, the police received 355 reports regarding illegal encampments. Already this year, the figure is around 125, Berlingske reports.
This week, the police detained 37 Romanian citizens for sleeping in camps which could cause unease to locals.
Yesterday, camps at Islands Brygge, Lille Kongensgade, Vesterbrogade and Nyropsgade were cleared and ten people were detained. They were later released after being fined 1,000 kroner for breaching the peace, Ekstra Bladet reports.
Staff at Trinitatis Kirke in Copenhagen have also been offered vaccinations because of the growing amount of excrement and potentially toxic rubbish left round the church by people sleeping rough.
Danske Folkeparti agrees with the mayor and would like to see a law change.
Integration spokesperson Martin Henriksen wants any proposed law to include a clause saying that foreigners can only avail themselves of the right to free mobility of labour if they have a contract or a job offer in writing.